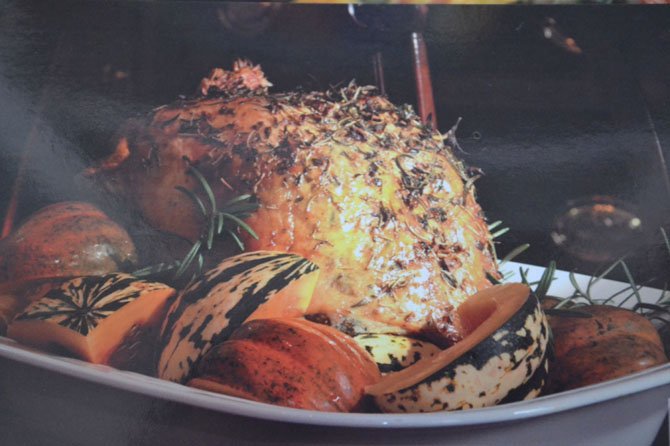 As a teen, Chef Guiseppe Ricciardi's Thanksgiving dinners were anything but traditional. Ricciardi , the proprietor of Dolce Vita and Dolce Veloce in Fairfax, moved to New York from Italy with his family when he was 14. His family celebrated Thanksgiving in their new country, but they put an Italian twist on the holiday.
"We had turkey on the table," he said. "But we couldn't help but add an Old World favorite: crepe manicotti with cheese."
From keeping the Old World alive to serving Asian influenced side dishes to making over traditional southern foods, local culinary experts like Ricciardi are preparing for the holiday, but turkey isn't the only thing on their menus.
For Chef Stephen P. Sands of Culinaria Cooking School in Vienna, Thanksgiving is a family affair. "My sons began in the kitchen cooking with me from when they were about 3," he said. "Now, every holiday we share the duties and enjoy the conversation and share stories that have happened during the year, or reminisce about times past."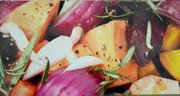 This Thanksgiving, he can be found in the kitchen with his adult children braising cabbage with red wine or making his own Asian-inspired cranberry sauce with ginger and pinot noir.
"Asian ingredients have become part of the mainstream culinary mix," said Sands. "Ginger and Chinese five-spice powder … turn up along with Oregon wine in … this classic holiday dish."
Arlington-based chef and instructor Kristen Robinson, of The International Culinary School at The Art Institute of Washington, said her Turkey Day menu has roots in her childhood traditions. For her, Thanksgiving was an all-hands-on-deck family affair.
Her most cherished memories are those spent her grandparents' sides, helping in their restaurant in Mount Carmel, Pa. "I can remember helping my grandfather push peeled potatoes through a fry cutter while I stood on top of a five-gallon bucket so that I was tall enough to reach it," she said, adding that she would then help her grandfather roll out dinner rolls and make hundreds of pies and other sweets with her grandmother. She also helped her uncle roast turkeys and make huge batches of mashed potatoes and stuffing.
When the last patron left the restaurant, Robinson's family would clean up from the public Thanksgiving rush, lock the doors and re-set the table.
"We would all gather around the table after a long day's work and laugh and eat, say thanks for all that we had," said Robinson. "It always felt like a true accomplishment, feeding hundreds of people and seeing the joy spread across their faces. But the best part was the end of the night when it was just family, talking and laughing about funny things that had happened."
Those childhood Thanksgiving influences remain. One of Robinson's Thanksgiving dishes this year is baby carrots and garlic tossed in balsamic and olive oil. Also on her menu are a yellow squash casserole with goat cheese, roasted Brussels sprouts with bacon and buttery mashed potatoes.
"I try to make sure each side dish I prepare has a nice variety of flavors with lots of vegetables and fruits," she said. "I will actually be deboning my turkey after I brine it this year and rolling it into a roulade to ensure I have a nice crispy skin on each serving."
Reston-based nutritionist Teri Cochrane of Healing Paths LLC believes Thanksgiving can be about health as well as family. In fact, she assembles her menu based on the healing properties of each dish.
When it comes to her bird, Cochrane focuses on the breast. She stuffs the cavity of a bone-in turkey breast with pears, carrots and celery, then rubs it with a mixture of fresh garlic, oregano, rosemary and olive oil. "I am thankful for the bird that keeps on giving," she said. "You can use the leftovers to make multiple meals."
She also slices carrots, peels sweet potatoes and dices beets before coating them — along with fresh rosemary — with olive oil and sliding them into the oven.
"The vegetables' colors display the abundance of beta carotene you will be taking in," she said. "Beta carotene, typically found in these vegetables, has been shown to be protective against lung cancer when taken through foods. My nervous system is soothed and I experience restful sleep after … this meal."
Also on Cochrane's Thanksgiving table is a new twist on a deep=-south dish: wilted collards over brown basmati rice. "This version of collards takes a Southern dish typically seasoned with pork fat and converts it into a gluten-free, vegetarian option mixed with brown rice and offers generous amounts of vitamins K, A, C and E," she said.
Her dessert includes a fruit-packed bread pudding, but skips the refined carbohydrates, butter and sugar found in traditional bread puddings. "I like to weave a flavor thread with my menus," said Cochrane. "This takes the cranberries through dessert."
Cranberry Sauce with Pinot Noir and Curry
Courtesy of Stephen P. Sands, CEO, Culinaria Cooking School
Makes About 22 Cups
1 TBSP. vegetable oil
2 Cups cranberries (about 8 oz.)
2 Cups Pinot Noir (or other dry red wine)
12 Cups sugar
1 TBSP. fresh ginger, minced
3 TBSP. crystallized ginger, chopped
1 tsp. curry powder (optional)
1 Lrg. pinch Chinese five-spice powder
Heat the oil in a large saucepan over medium-high heat. Add the cranberries and fresh ginger and stir until cranberries begin to burst, about 3 minutes. Add the wine and sugar; boil until the mixture is reduced to 22 cups, about 15 minutes. Add crystallized ginger, five-spice powder (curry, if desired). Season the relish with S & P (can be made 3 days ahead. Cover, chill). Serve the sauce cold or, if desired re-warm over low heat, stirring often.
A blend of ground anise, cinnamon, star anise, cloves and ginger; available in the spice section of supermarkets and Asian markets.
Red-Wine Braised Cabbage with Apple
Courtesy of Stephen P. Sands, Culinaria Cooking School
Serves 8-10
3 oz. unsalted butter (6 TBSP.)
3 lb. head, red cabbage
¾ lbs. shallots, thinly sliced
2 cups red wine
1 cup vegetable or chicken stock
¼ cup red-wine vinegar
¼ cup balsamic vinegar
2 med. firm sweet apple, such as Gala, Fuji, or Honey Crisp
1½ TBSP. sugar
1¼ tsp. salt
10 whole peppercorns
2 whole cloves
1 lrg. bay leaf
Heat butter in a 6-8 qt. heavy pot over medium high heat until foam subsides, then cook shallots until translucent, then add cabbage, cooking until wilted and soft (stirring frequently), about 40 minutes.
Add the wine, stock, vinegars, apple, sugar, and salt and bring to a boil.
Place the peppercorns, bay leaf, and cloves in a cheesecloth and tie with a string. Add to the cabbage mixture, then cover mixture with a round of parchment and cover pot with a lid. Reduce heat and simmer until cabbage is very tender, about 1½ to 2 hours.
Remove cheesecloth and discard. Check seasonings and season with salt and pepper as needed.
Harvest Roasted Root Vegetables
Courtesy of Teri Cochrane, Healing Paths LLC
Canola oil for oiling pan
6 medium carrots, peeled and halved lengthwise
2 medium sweet potatoes, peeled and cut into chunks
2 yellow and 2 red beets, peeled and cut into chunks
1/2 cup fresh rosemary leaves
1 tablespoon olive oil
1 teaspoon sea salt
1/2 teaspoon cracked pepper
5 ounces of chèvre (optional)
Preheat oven to 400 degrees F. Using canola oil, lightly grease a roasting pan large enough to hold the vegetables in one layer. Place all ingredients in a large mixing bowl, and toss until the vegetables are well coated.  Transfer vegetables to prepared dish. Bake, uncovered, turning occasionally, 30 to 40 minutes or until vegetables are tender. Remove pan from oven and immediately top vegetables with dollops of cheese. Let sit for a few minutes to allow cheese to soften. Serve as a side or over greens as a main dish with the cheese.
Serves 6
Herb-Rubbed Roasted Turkey Breast
Courtesy of Teri Cochrane, Healing Paths LLC
I am thankful for the bird that keeps on giving. You can use the left-overs to make multiple meals. It's part of my "convertible meal" strategy, which increases efficiency in my kitchen. Turkey is a nutrient-dense, low-fat protein source which is especially high in tryptophan, an amino acid that helps to stabilize mood and sleep. This bird is also especially high in vitamins B6, B12, and niacin. B6 and B12 are important in the protection of the cell membrane, red blood cell production, and nervous system function. The herbs used here also yield antibacterial, antimicrobial, antiviral, and immune-supportive benefits. Accompany this recipe with Harvest Roasted Root Vegetables.
4 to 5 pound bone-in turkey breast
Freshly squeezed juice from one lemon
Sea salt
Coarsely ground black pepper
½ pear or apple, cut in quarters
1 carrot cut in ½
1 celery stalk, cut in 4 pieces.
2 tablespoons dried garlic
2 tablespoons dried oregano
2 tablespoons dried rosemary
3 tablespoons olive oil
Preheat oven to 425 degrees F. Remove any gizzards if provided. Rinse turkey and pat dry.
Place turkey on a wire rack in a 10- x 14-inch roasting pan that has been lined with foil. Using a pastry brush, brush on lemon juice. Season with salt and pepper all over bird. Stuff breast cavity with pear, carrot, and celery. In small bowl, combine garlic, oregano, rosemary, and oil. Mix well to create rub.With a spoon, separate the skin of turkey from the breast meat. Apply rub in between skin and breast, then all over the outside of the bird. Bake for 20 minutes. Reduce oven temperature to 350 degrees F; continue baking until meat thermometer registers 170 degrees F.
Take turkey out of oven. Let stand for 10 to 15 minutes before slicing. Serve with favorite healthful side dishes.
Convertibles: This bird can go a long way in converting ,one meal into easy convertibles.
Barbeque Turkey Sandwiches
Just shred leftover turkey; toss with your favorite barbeque sauce, and warm. Serve on whole wheat buns; and, in minutes, you have barbeque sandwiches.
Turkey Avocado and Cucumber Sandwiches
Courtesy of Teri Cochrane, Healing Paths LLC
Layer turkey breast slices; 1/4 avocado, sliced; and 4 to 5 thinly-sliced cucumber rounds on whole grain bread.
Turkey and Bean Enchiladas
Courtesy of Teri Cochrane, Healing Paths LLC
1 1/2 cups shredded turkey breast
2 cans kidney beans, rinsed and drained
1 teaspoon cumin
1 teaspoon freshly squeezed lime juice
1 cup chopped fresh cilantro
1/4 teaspoon sea salt
1/4 teaspoon freshly ground black pepper
6 whole grain tortillas
1 cup salsa
1 cup shredded Monterey Jack cheese
Preheat oven to 350 degrees F. Combine turkey, beans, cumin, lime juice, cilantro, salt, and pepper. Place in a 9- x 12-inch baking dish. Arrange whole grain tortillas in 2 rows of 3 each. Spread salsa on top of tortillas. Top with shredded cheese. Bake for 30 minutes. Broil for 2 minutes or until cheese bubbles. Serve with fresh avocado slices.
Sweet fruit and nuts satiate me while replenishing my body with energizing fuel
Nut and Fruit Spelt Bread Pudding
Courtesy of Teri Cochrane, Healing Paths LLC
Oh, the refined carbohydrates, butter, and sugar in traditional bread pudding - not in this version. We have lowered the sugar needed by substituting it with agave nectar which helps to lower the otherwise high glycemic content of this dish. The sulfite-free dried fruit also lends natural sweetness. The refined white bread has been replaced with a whole grain alternative and the nuts and coconut milk give it a wonderfully light consistency. This dairy- and wheat-free version is a great treat for people with those sensitivities, but there will be no substituting flavor, it is wonderfully tasty.
2 cups soy milk
1 cup light coconut milk
⅓ cup agave syrup
2 tablespoons Earth Balance spread
3 large eggs
1 teaspoon cinnamon
2 teaspoons vanilla extract
4 cups stale spelt bread, cut into cubes*
⅓ cup raw, coarsely chopped almonds
⅓ cup raw cashews
⅓ cup sulfite-free raisins
⅓ cup sulfite-free dried cranberries or cherries
Preheat oven to 350 degrees F. Grease 9- x 13-inch glass or ceramic baking dish. In a 3- to 4-quart saucepan, add milks, agave syrup, and Earth Balance spread. Warm milk mixture over low heat, stirring occasionally, until Earth Balance spread melts. In a large mixing bowl, whisk together eggs, cinnamon, and vanilla. Slowly add milk mixture to the eggs, whisking constantly until completely blended. Place bread in prepared baking dish. Pour liquid mixture over bread, making sure bread is completely moistened. Fold nuts, raisins, and cranberries into bread mixture. Bake in oven for 40 to 50 minutes or until a knife inserted in the center of the casserole comes out clean and the bread is browned. Serve warm.
Serves 8
*I prefer using the artisan breads from the grocery bakery. If there is a gluten sensitivity, use gluten-free bread as your base.
Wilted Collards Over Brown Basmati Rice
Courtesy of Teri Cochrane, Healing Paths LLC
1 cup brown basmati rice
2 cups filtered water
1/4 teaspoon salt
4 to 5 medium collard leaves
¼ cup water
1 tablespoon olive oil
3 cloves garlic, coarsely chopped
Sea salt
Freshly ground black pepper
1/4 cup chopped raw almonds
Place rice, water, and salt in a medium saucepan. Bring to a boil. Reduce heat to a simmer and cook for approximately 50 minutes. Cut away tough stalks and stems from collards and discard any leaves that are bruised or yellow. Wash collards thoroughly and dry the leaves. Cut several leaves at one time by rolling them up then cutting them crosswise into ribbons. In large skillet over medium heat, place collards, water, olive oil, garlic, and salt and pepper to taste. Cook until collards are tender, about 3 to 5 minutes, tossing occasionally.
Add almonds to skillet, cover, and cook for 2 minutes. For a complete-protein meal, add one 15-ounce can of chickpeas (rinsed and drained) to the rice while cooking. If you do not have collards at home, you can substitute one 12-ounce bag fresh spinach, rinsed and dried.
Serves 2 to 3
Chef Robinson/The International Culinary School at The Art Institute of Washington.
Brussel sprouts: I brown bacon in a pan until crispy then remove the bacon and add the Brussels sprouts into the pan which still has all the bacon fat. Sear them until golden brown and season only with black pepper; bacon has a lot of salt already. then add crispy bacon pieces back into the pan and serve.
Turkey Brine: 1 Gallon Apple Cider 2 Quarts water 8 cups salt 1 cup sugar, 8 cloves of garlic, 3 tbsp. whole black peppercorns 1 bay leave 2 pieces of star anise 1 cup dried apples. Combine all ingredients in a pot and boil until salt and sugar dissolves. Allow the liquid to cool and brine turkey for 12 hours. Remove from brine and allow to dry in your refrigerator uncovered for 8-12 hours. Then prepare as normal and roast your bird.
Roasted carrots: I buy baby heirloom carrots, they typically sell them by color in bunches at Harris Teeters. Peel them and then toss in a small amount of olive oil and enough balsamic vinegar for you to taste. Season with salt and pepper and toss with 3 whole peeled garlic cloves. Place on a baking sheet and roast until tender.
Squash Casserole: Any kind of squash you like sliced paper thin. Season with thyme salt and pepper and crumble goat cheese over the squash and mix. Place in a baking dish and cover with custard liquid. The custard is made up of eggs and cream, for every cup of heavy cream you will need 4 eggs. You only want enough to cover the squash and fill the gaps in the baking pan. Sprinkle breadcrumbs over the top and bake at 350 until set.
Mashed Potatoes: The secret is to add butter until you see them starting to break then stir in hot milk to bring it back, the result is creamy delicious mashed potatoes. Definitely high in calories but its Thanksgiving and it only comes around once a year.