When the temperature starts to drop and leaves begin to turn red and orange, you can often find chef Susan Limb meandering through local farmers markets, sorting through rough-textured, knotty sweet potatoes; tough, waxy butternut squash; and dusty, rose-colored apples.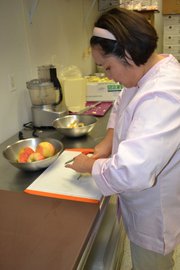 "Some people think farmers markets are bare after summer, but a lot of markets are still open and have really nice fall and winter squash, turnips and potatoes," said Limb, co-owner of Praline Bakery & Bistro in Bethesda. "And because they are so fresh, you don't even have to do that much to them when you roast them. The make a hearty, flavorful dish that isn't heavy."
Limb and other local chefs and nutritionists say almost all fall vegetables can be roasted to yield delectable results. In fact, they prefer roasting over braising, sautéing, simmering or boiling because not only does it create deeply rich flavors, it also helps maintain the vegetables' nutritional value.
"When it comes to fall, I think about pumpkins, gourds, butternut squash and kale in deep autumnal colors like orange and bright green that are packed with fiber and beta carotene," said Lisa Goodson, a licensed nutritionist and nutrition instructor at Marymount University in Arlington. "These nutrients are so important when it comes to overall health. They can help with cholesterol, diabetes and heart disease. Steaming and boiling vegetables might cause them to lose nutrients."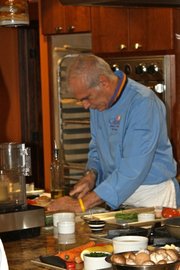 Chef Stephen P. Sands, of Culinaria Cooking School in Vienna, transforms a laundry list of fall bounty into a kicky vegetable side dish. He tosses garlic, red and golden beets, russet potatoes, sweet potatoes, parsnips, turnips, shallots and carrots with olive oil, salt and pepper and roasts them for about 45 minutes. The vegetables soften on the inside and caramelize on the outside.
"Roasting is better because the vegetables retain most of their vitamins," said Sands. "If you choose vegetables that are in season, you don't need a lot of spices because the vegetables are flavorful on their own."
While there are plenty of roasted vegetables on Executive Chef Eddie Ishaq's menu at Wildfire, in Tysons Corner, he is particularly proud to unveil a kale salad this season. "We started using it because it is so popular now and it is a superfood in terms of nutritional value," he said. "We chop it up and make it into salad."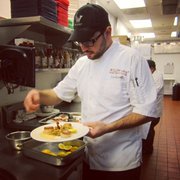 While kale salad might not sound as comforting as roasted root vegetables, Ishaq's offering is a shadowy green mountain under a blizzard of pumpkin seeds and Parmesan cheese. He douses the salad with a lemon vinaigrette dressing that evens out the bitter, earthy flavor of the kale.
"It is refreshing and you get the best of both worlds, says Ishaq. "With the lemon juice, pumpkin seeds and Parmesan cheese, it's creamy and also you get sweet, spicy and acidic flavors.
Ishaq says that even rustic turnips and parsnips can be transformed into tender comfort food with very little fuss. "Keep it simple and roast them with salt, pepper and butter or olive oil," he said. "You don't want to overpower the vegetables. When produce is fresh, local and in season, the taste stands on its own."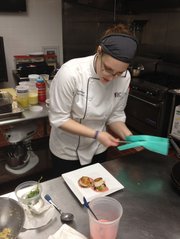 For her part, Arlington-based chef and instructor Kristen Robinson, of the Culinary School at The Art Institutes of Washington, creates a salad that includes both the savory and sweet flavors of fall. Her produce of choice: beets and pears. She enlivens the flavors of the beets by using a salt roasting method. "You can line the bottom of a cake pan with a layer of salt. Add in any spices you like [such as] coriander seeds, fennel seeds, star anise or black peppercorns," she said. "Nestle the beets into the salt and cover with foil and roast."
To finish the salad, Robinson tosses the roasted beets with diced pears, minced shallots, sliced chives, a spritz of lemon juice and a coating of olive oil.
Robinson also roasts a variety of squashes, but often purées the mixture and tosses it with pasta: "It's a nice alternative to tomato sauces since tomatoes are not in season now."
Limb, a former White House pastry chef, extends her healthy fall fare to post-meal treats. "Even for dessert there are a lot of pears and baking apples such as honey crisp or Granny Smith, which are in season now, she said. "The magnus pear is the sweetest, juiciest pear and you can poach it or bake it. You don't need sugar because it is so sweet. Just throw on a little bit of cinnamon."
Vegetarian Chili
Courtesy of Chef Kristen Robinson
1 small yellow onion, finely diced
1 red bell pepper, finely diced
1 jalapeno, minced
3 cloves garlic, minced
6 c. vegetable broth
4 c. tomato juice
2 Tbsp. chili powder
16 oz. Pink lentils
1 c. cracked bulgur wheat
1 lb. roasted mushrooms, any variety you like
Garnish suggestions: Cilantro leaves, crème fraiche (or sour cream), cheese, additional roasted mushrooms
Preheat oven to 400 degrees Fahrenheit. Clean mushrooms by wiping with a damp paper towel or cloth. Cut into uniform sizes. Toss with salt pepper and a bit of olive oil and lay on a cookie sheet. Place in the oven until caramelized, time will vary with mushroom types so it is important that they are cut in similar sizes. If using more than one variety, roast each variety separately.
In a large saucepot, sauté all vegetables with a small amount of olive oil. Be sure to season with salt each time you add something new into the pot. Once vegetables are tender add in the chili powder and stir to coat all the vegetables. Add in tomato juice and vegetables followed by pink lentils. Once the lentils are tender add in the bulgur and simmer for 10 minutes. Add in roasted mushrooms, taste and adjust seasoning.
Salt Roasted Beets
Courtesy of Chef Kristen Robinson
Salt Roasted Beets with diced pears, minced shallots, sliced chives, lemon juice and olive oil
Salt roasting—line the bottom of a cake pan with a layer of salt and add in any spices you like ... coriander seeds, fennel seeds, star anise, black peppercorns. Nestle the beets into the salt and cover with foil and roast in a 350-degree oven until tender. Once the beets are cooked, remove from oven and leave them covered until they cool to room temperature. Once cool you can use a paper towel to rub the skin of the beet off.
Cut salt-roasted beets into uniform size, toss in a bowl with diced pears, minced shallots, sliced chives and dress with a squeeze of lemon and olive oil.
*Since you salt-roasted the beets, no additional salt should be needed in the salad.
Roasted Root Vegetables
Courtesy of Stephen P. Sands, Culinaria Cooking School
Serves 8-10
1 head garlic, peeled and separated into cloves
1 lb. red & golden beets, washed, peeled and trimmed, and cut into 1 1/2-inch pieces
1 lb. russet potatoes, peeled and cut into 1 1/2-inch pieces
1 lb. sweet potatoes, peeled and cut into chunks
1 lb. parsnips, peeled and cut into chunks
1 lb. turnips, peeled and cut
1 large onion or shallots, peeled and cut into large cubes
1-2 large carrots, washed, peeled and cut into 1-2 inches
3 Tbsp. olive oil
1 Tbsp. smoked paprika
salt and pepper (to taste)
Preheat the oven to 400 °F
Wash and peel all the vegetables. Cut all the vegetables (except the garlic) into 1-1 1/2-inch cubes and place into a large bowl. Toss the veggies with olive oil, paprika, and salt and pepper.
Spread the vegetables in a roasting pan (do not crowd the pieces, use 2 if needed).
Roast in the center of the preheated oven until tender and evenly browned, 45 to 50 minutes. Add the garlic during the last 25 minutes of roasting. Taste and adjust the seasonings.
Baked Apple Filling/Topping
Courtesy of Chef Susan Limb
Preheat oven to 325 degrees
3-4 baking apples (honey crisp, Mutsu or pink lady-- all of which are available at local farmer's markets) peeled, cored and cut into chunks
3 Tablespoons of unsalted butter, cut into small pieces
1 Tablespoon of cinnamon
2 Tablespoons of sugar
Toss apples, cinnamon and sugar together. Put in a rimmed baking pan. Dot the top with butter.
Bake for 20 minutes. Take out and using a spatula, turn the apples. Put back in oven and bake another 20 minutes. When apples are ready it should look like chunky apple sauce.
Uses:
Topping for ice cream or oatmeal. Add walnuts or raisins for more texture.
Filling for tarts and open topped pies.