Imagine a tiny world, smaller than the eye can see. Imagine it hurtling through space with no direction. Imagine this little planet, and know that it is possible. By just thinking, anything is possible. Herndon High School masterfully illustrated this power of imagination in their rendering of "Seussical the Musical."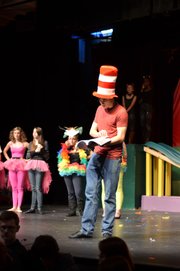 "Seussical the Musical," written by the award winning Lynn Ahrens and Stephen Flaherty, first made its debut on Broadway in 2000. Although unsuccessful on the Great White Way, this musical became a quick favorite among local and high school theaters. The main focus of the show is the story of Horton the Elephant, but that does not keep many of Dr. Seuss' revolutionary characters make an appearance.
Drew Lytle was excellent in his ability to bring the lovable character of the Cat in the Hat to life. Lytle's use of comical expression and appropriate overreaction created a character reminiscent of the childhood classic. He started off both the first and second act with a contagious energy that left the audience excited for things to come. Hunter Robinson achieved a similar task as Horton the Elephant. Even when behind a scrim, Robinson was able to effectively take the stage and capture the undivided attention of the audience.
The cast consistently created beautiful stage pictures with multiple levels that left every face visible. Nearly every performer had a defined personality that was crucial in representing the world of Dr. Seuss. An example of this was the memorable cleverness that Zach Klein and Sonya Keefer brought to their roles as Mr. and Mrs. Mayor of Whoville. Both the physical and choral elements of their performance were consistent and, above all else, entertaining. The same is true with Laura Millon and her performance as Gertrude, which was full of creative physicality and vocal flair.
It was Alisa Clayton's work as light designer that really brought this production together. Each lighting cue, which numbered over 100, was generated with a specific purpose in mind and executed flawlessly. The set was creative in that it drew clear inspiration from the work of Dr. Seuss. The bold simplicity of the set offered much utilization from the performers and a clean switch from one location to another with ease. This was achieved with the use of a scrim to divide the many worlds of this production.
The cast and crew of Herndon High School's production of Seussical brought the iconic stories of Dr. Seuss to the stage with inventive imagination and notable dedication. Whether it's floating on a tiny speck of dust or dancing through the Jungle of Nool, Herndon High School proved that "anything's possible" if you just think.