The graduates of the 60th session of the Fairfax County Criminal Justice Academy included the police department's first Asian female, a former fire department deputy chief and a Bulgarian immigrant whose family tended vineyards.
The ceremony was Sept. 20 in GMU's Harris Theatre, and Circuit Court Clerk John Frey swore in 43 new officers. There were 26 county police officers, 13 sheriff's deputies, two Town of Vienna police officers, one Town of Herndon police officer and one county fire investigator.
The county's first female Korean police officer is Rachel Lee, a 2000 Centreville High grad. "It's something I wanted to do for a long time," said Lee, who previously worked as an office administrator in the healthcare field. "I wanted to be active and do something that would have an impact and benefit the community." Initially, she said, she'll explore all her career options, but she hopes to eventually become a detective.
There to see her graduate, as well as another new Korean police officer, Kyoung Pak, was fellow Korean Det. Roy Choe. He was the Sully District Station's 2011 Officer of the Year and now works in recruiting at police headquarters in Fairfax.
"I feel really great to see them both become police officers," said Choe. "And Officer Pak was my mentee. Hopefully, we'll get even more [Koreans] in the next academy session in November."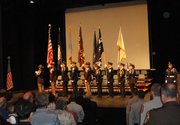 ACCORDING TO 2010 CENSUS data, some 189,661 Asians live in Fairfax County. But, said Choe, the county only has about 50 Asian officers and just 16—including Lee and Pak—who are Korean, speak that language fluently and understand Korean culture.
So Choe said having two more Korean police officers is important. "In the Northern Virginia area, especially Fairfax County, with all the immigrants who've moved here, there's a larger population of people not speaking English and only Korean," he explained. "So the police need people who can speak Korean so they can help them out."
At the academy, the students underwent a rigorous and intense, 24-week training period. It included 320 hours of academics, 84 hours of precision-driver training, 94 hours of firearms instruction, 110 hours of defensive-tactics conditioning and 130 hours of defensive tactics.
The graduation ceremony began with the county Honor Guard, plus PFC Patrick Briant, who played the bagpipes while the new officers entered the theater. Then PFC Laura Redman sang the National Anthem while the Honor Guard presented the colors and the audience stood.
Later, Craig Floyd, chairman and CEO of the National Law Enforcement Officer Memorial Fund, gave the keynote address and the academy graduates received their badges. But first, police chaplain Jim Hepler gave the invocation, and his words were powerful.
HEPLER SAID the officers know their chosen profession isn't an easy one. But, he said, "We do it because of our desire for goodness and love and a belief that our world still needs protectors." And he asked God to "see the light of hope and determination" within the new officers and to know that they're His "messengers of peace and righteousness."
"Every day, when these officers, deputies and fire marshals put on their badges, we ask you to be with them," continued Hepler. "Give them faith, give them strength, help them maintain their integrity and keep them grounded in the mission they set out to do.
"Our citizens expect our law-enforcement officers to be there for them at all times and in all situations. We ask You to be with these officers and let them remain compassionate at the right time, unyielding when needed and, at all times, give them strength and faith."