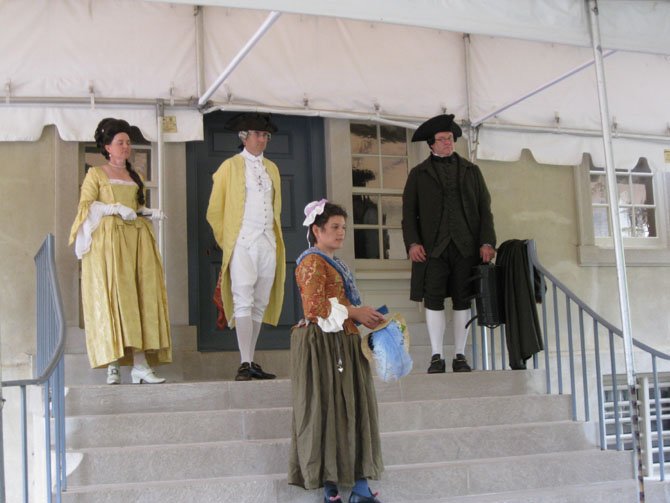 Alexandria — Living historians modeled 18th-century clothing at an Historic Fashion Show at the Carlyle House on Saturday, Sept. 21 — clothing that would have been worn by society maverick John Carlyle and his family in Old Town Alexandria. This year's show focused on the Colonial, Federal and Civil War-era (1753 to 1860s), as well as the mid-19th century.
"Our goal was to share the history of fashion that the Carlyle family would have been wearing and encountering among their peers," said Helen Wirka, curator and site specialist at Carlyle House.
The Carlyle's home was the center of Alexandria's wealth and politics from 1741 to 1780, according to Wirka. John Carlyle was a town founder, surveyor, justice of the peace, and building contractor. He hosted the Bread and Butter Ball, and entertained the likes of George and Martha Washington, Gen. Edward Braddock and five governors at his mansion. He married Sara Fairfax in 1747, and the couple had seven children. After Sara died, he married Sybil West in 1761; and they had three children.
Wirka said the clothing was made by hand (no sewing machines), and the models' clothing in this show was historically accurate. "We wanted people to learn more details about the differences in this clothing. There are nuances — It's the little details that make a difference," said Wirka.
Emcee Jane Pease told the 20 attendees that fashions were dictated by France and Britain at the time. "You could tell where a person stood on the social ladder … And people's clothing indicated their stations in life." Around 1770, fashion periodicals started to appear, and an Old Town milliner might have dressed a doll with the latest fabrics, colors, cut and trim from England.
Emcees Pease and Kerry McClure donned historically accurate dresses from the 1750s and 1780s, and introduced 15 models from adult age to children, while giving detailed descriptions of their outfits — down to the underwear.
Representing the 1780s Gentry Class, Pease posed as a prosperous lady in a green striped silk dress, Gainsborough hat, and bum roll with red shoes from 1770. McClure represented the 1750s in an outfit she made with panniers (side hoops).
Pease said from 1750s to the 1790s, clothing went through "profound" changes due to the American and French Revolutions. About 99 percent of the population was middle or lower class, but this fashion show embodied what the top echelons of society wore. And because fabrics were expensive and labor was cheap, she said clothing was often "re-fashioned" and remade into another outfit.
For undergarments, ladies and boys wore "stays" made from cotton, linen or wool with boning to keep their upright posture in place. The boning was often baleen cartilage derived from whales that provided a flat silhouette on the stomach and flared on the side. It taught proper posture because it forced people to stand erect. "Shifts" were well-made cotton undergarments worn closest to body that could be washed.
In the 1790s, pockets were tied with a string and pouch around the waist, not sewn into the garments. Women also wore underpinnings called "panniers," which were flexible baskets on each hip to create a wider shape. Later on, the emphasis moved to the rear, with "bum rolls" or false rumps — switching the interest from the hips to the rear. Ladies wore caps to keep their hair clean and kerchiefs around their necks.
In the show, Matthew West alias "Mr. McGroover," dressed as a 1750s fur trader with waist coat, breeches, beaver skin, a hat cocked to one side (to hold a rifle), and Iroquois-style ties around the boots.
For men, the shirt served as an undergarment with only the collar and cuffs visible. And because summers in Old Town could reach 90-plus degrees, men wore unlined linen suits, not wool ones like their English counterparts. Regardless of the humidity, it was proper for men to leave their coats and hats on all day.
If a fashionable woman attended a ball in 1785, she might wear a formal gown (Robe a l'Anglaise) made of layers of silk damask with pleats down the back, a stomacher, panniers, buckled shoes, silk stockings and gloves. Prosperous women (and men) also wore wigs, said McClure — and for the ladies, the higher the wig, the better.
Lyn Padgett modeled a day-walking gown from the 1780s with a print chintz jacket, silk petticoat, ruffled neckerchief, with the sleeves cut like a man's and a walking stick topped with a straw hat.
On Saturday, Oct. 26, the Carlyle House is hosting the "Re-enactment of the Death of John Carlyle," from 6 to 9 p.m. The event partners with the Steps to the Past Walking Tour, and commemorates the funeral, death and burial of John Carlyle. The first Virginia Regiment will fire their muskets as a sign of respect.