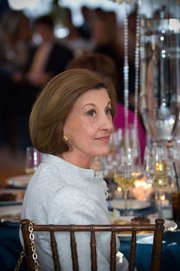 Alexandria — Carol Leann Cleary, a well-known Realtor, local philanthropist and longtime resident of Alexandria, died Oct. 6 after a seven-week battle with pancreatic cancer.
"Carol Cleary modeled a quiet dedication to children, family and community that inspired all of us who had the good fortune to know and interact with her," said Sonia Qunionez, executive director of SCAN, a nationally-recognized nonprofit dedicated to the prevention of child abuse founded by Carol Cleary's husband David in the couple's basement 25 years ago. "She has been a force of generosity and compassion in this community for decades and believed in the power of individuals to make a difference in our community."
Born Carol Leann Peterson in Minneapolis on July 9, 1943, Carol was raised in Hutchinson, Minn. She was the daughter of Margaret Prieve Peterson and Donald Peterson, a housing contractor. In 1970, she married David J. Cleary and lived in Bloomington, Minn., where she was active in political and civic activities. Carol Cleary brought her passion for civic engagement with her when she and her husband left Minnesota for Alexandria in 1976, toting their 1-year-old daughter, Erin, so David could accept an appointment as a White House Fellow.
"Carol's presence at SCAN events always made volunteers feel special and important," Quinonez said. "She encouraged me and SCAN's staff in ways that kept us going even when facing difficult challenges. She believed in Dave's vision when he started SCAN 25 years ago, and she believed in each of us in ways that made us stronger and wiser."
Carol became a Realtor with McEnearney Associates in 1986 and subsequently became one of the top Realtors in Northern Virginia. Her expertise and focus was in Old Town, an area she called home for 37 years.
Carol is survived by her husband, David; their daughter, Erin Cleary Murtagh, son-in-law, Paul Murtagh, and grandchildren, David, Robert and Margaret Murtagh of Washington, DC; brothers, Gary Peterson of San Antonio, Texas, and Bruce Peterson of Hutchinson, Minn.; and a sister, Mary Peterson of Grand Forks, N.D.
"Carol will be terribly, terribly missed," Quinonez said. "But she has left a true legacy that lives on in the children who benefit from the generosity and leadership she and her husband devoted to SCAN's programs for local families."
A celebration of Carol's life will be held Thursday, Oct. 24 from 7 to 9 p.m. at the Torpedo Factory Art Center in Alexandria. In lieu of flowers, the family has requested contributions to the Carol Cleary Fund at SCAN, an organization she remained involved with even while fighting her illness. For more information, visit www.scanva.org/cleary.