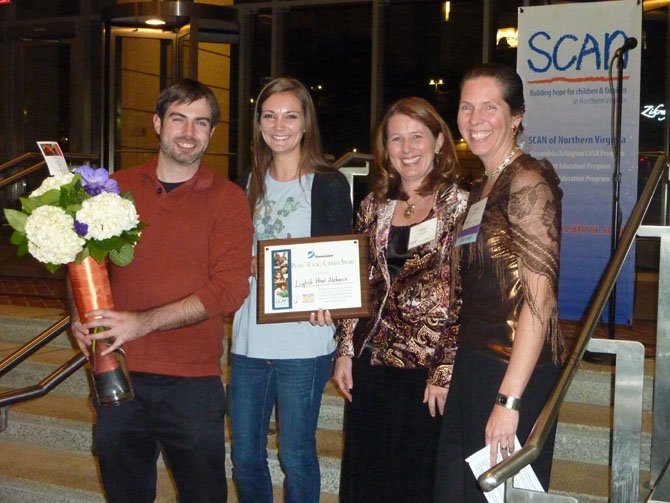 More than 270 people turned out Nov. 17 for the 10th annual Toast to Hope, a garden-party themed gala that raised more than $65,000 for SCAN (Stop Child Abuse Now) of Northern Virginia, a local nonprofit that leads child abuse prevention efforts across the region.
"Tonight is about raising awareness for our CASA [court appointed special advocates] program, our parent education programs and public education initiatives," said event co-chair Christian Lapham. "The CASA program is especially important as the volunteers are the eyes and ears for children in our court system."
Photo Gallery
Toast to Hope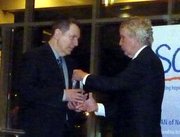 Click Photo for Flash
Held in the atrium of the U.S. Patent and Trademark Office, a highlight of the evening was the presentation of the 2012 Cleary Award to Clear Channel Radio's Bernie Lucas for his commitment to producing SCAN's monthly radio show Parenting Today.
"SCAN is thrilled to recognize Bernie Lucas and Clear Channel this year," said SCAN executive director Sonia Quinonez in presenting the award. "Time after time a parent, grandparent, teacher or neighbor has contacted SCAN after hearing a show, wanting more information or support to make a report of suspected abuse, identify a parenting resource or inquire about parent education opportunities. Bernie, in particular, has always been an advocate for our issues, a patient mentor about radio communications and a networker who helps connect SCAN to other outlets for our messages."
Lucas is public affairs director for the company's Washington DC stations and since 2005 has produced thousands of Sunday morning "Community" segments for 98.7 WMZQ, 97.1 WASH-FM, BIG 100.3, HOT 99.5 and DC101. The 12-minute Parenting Today segments air Sunday mornings and enable SCAN to educate parents, caregivers and community adults about SCAN's programs and initiatives in the fight against child abuse.
For more information about SCAN, call 703-820-9001 or visit www.scanva.org.