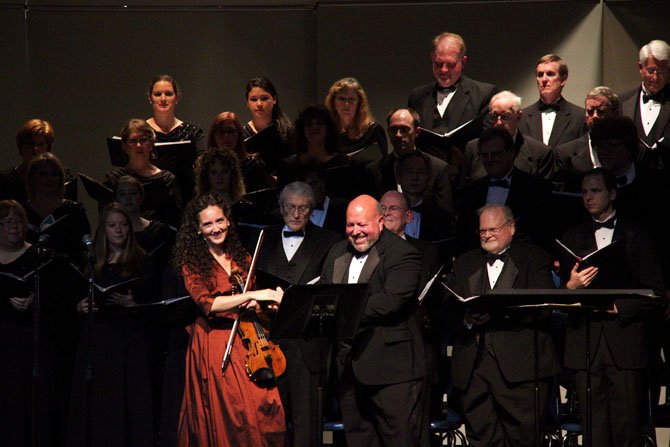 On Sunday, Sept. 29 at Fairfax High School, Grammy nominated violinist Jenny Oaks Baker and the Mormon Choir of Washington, D.C. held a concert as part of the annual "Day to Serve" initiative to feed the hungry. A crowd of 800 people came out and donated approximately 1,600 pounds of nonperishable goods. This food will be put to good use by local area food banks that are responding to unprecedented demand from those in need.
The theme for this concert was, 'With Gratitude We Share." It was a wonderful evening of music and fellowship. Greg Goehring, the concert director, did a fantastic job in organizing and directing this concert and those in attendance were especially grateful to Jenny Oaks Baker and the Mormon Choir of Washington, D.C. for their willingness to lend their talents for such a worthy cause.
The program began with words from Neal Neumann, the narrator for the event, and Doug Bush, the president of the Annandale, VA LDS Stake, which collected thousands of pounds of food through donation solicited by patrons of local grocery stores and a 3K walk. A rousing rendition of the "Star Spangled Banner" with Neal Neumann serving as narrator was performed followed by the work of Ms. Baker, former first chair violinist with the National Symphony Orchestra, who played a magnificent violin solo titled, "Souvenir d'Amerique." Ms. Baker also performed "Theme from Schindler's List" and "Amazing Grace." Northern Virginia residents Erin Mecham, Bobbie Lattin, Kevin Riehle, and Greg Goehring performed "Oh Susanna." The Mormon Choir (www.mormonchoir.org) performed "Redeemer of Israel," "You Raise Me Up" with Gary Clawson as soloist, "Because I Have Been Given Much" and closed with "The Battle Hymn of the Republic" with the audience joining.
The organizations supported by the Day to Serve food donations included the following:

Annandale Christian Community for Action (ACCA) supported by 26 area congregations; provides assistance to thousands of families and individuals each year.

Our Daily Bread (ODB) supports low-income families who need not only food assistance but also need support and assistance with the rigors of daily living and social needs.

Ecumenical Community for Helping Others (ECHO) is supported by 25 area congregations and provides both food and other household support to low income families.
These organizations provide assistance to all in need and the assistance is always free of charge to those who receive.
The Day of Service began in 2012 as collaboration between the governors of Maryland, Virginia, West Virginia and Washington D.C. It is an event that unites people of all faiths, races, cultures and backgrounds with the shared goal of helping those in need and improving the local community.