Alexandria — Alexandria resident Virginia Britton has come up with a creative way to raise funds for the Metropolitan Arts Collaborate (MetroArts), a non-profit organization that she started in June 2012. The mission of MetroArts, which is currently in the process of becoming a 5019(C)(3), is to provide affordable fine arts education to local students. By taking classic Barbies and selling them as transformed, artfully-costumed custom dolls, Britton is using her own fine arts skills to raise money for the budding foundation.
Currently, she sells her dolls at the gift store, A Show of Hands. She also takes requests. She will also be selling the dolls at the Detroit Urban Craft Fair at the Masonic Temple on Dec. 7 and 8.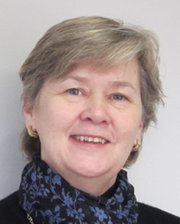 As a ballet director, she has designed her fair share of ballet costumes, so she had plenty of doll-sized costumes for different themes.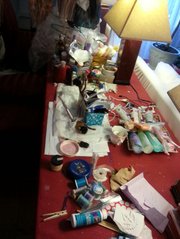 "I could never bring myself to throw away the scraps from all the years of making costumes," Britton said. "During a summer camp one year, we were doing hand sewing for costuming. Because they were small, it didn't take that long and then I took a look at this one left over Barbie, and I said, 'Dang! I get make a costume now.'"
She said when someone saw the doll and wanted to buy it, the mass selling of the dolls for non-profit fundraising evolved.
"It turned out really well and then someone wanted to buy it so I sold it, and then I went to a local thrift shop and bought 10 more Barbies," Britton said. "It was kind of an addiction, and I enjoy doing hand sewing a lot. Hopefully it will benefit the non-profit."
THE INSPIRATION for the organization came to her years ago, as a ballet teacher at the Alexandria Ballet. A board member, Britton is vice president of the organization. She wants to be able to provide a complete fine arts education, including but not limited to creative writing classes and an array of dance classes.
"We have five other people on the board of directors who are also cofounders," Britton said. "Since 1991, I've had the Alexandria Ballet here and I've worked for other [ballet] companies. We want to bring music, arts and dance into the public again because everyone agrees that when it comes to quality art, schools have failed us. Schools have enough to deal with without trying to provide something they have no training in — the fine arts."
MetroArts Recording Secretary Eileen Greenberg said she shares Britton's concern for this generation of students that lacks fine arts training. She said that not only do fine arts contribute to more advanced thought processes, but also to the overall wellbeing of society.
"With all the provocative dancing that kids are exposed to, there are going to continue to be children having children," Greenberg said.
Greenberg herself once started a ballroom dance program for students, so with her history, she said she was excited to join the MetroArts board of directors.
"The children in the ballroom dance program learned how to have manners, and dance, so I thought, 'Wow, this will be great, I want to start it again,' Greenberg said. "I am hopeful that we can get people to see the value of it and want to get the children in Alexandria and Arlington to learn manners and ballroom definitely teaches that."
Britton said the group is already a non-profit Virginia corporation, but the board is waiting for 501(c)(3) status before it starts approaching the Boys and Girls Clubs, local rec centers and even potentially school systems for partnerships. She said there has already been tentative planning, but she is eager to start official planning for affordable and convenient fine arts after-school programs.
"Hopefully I can keep on working in the area — with the Boys and Girls club," Britton said. "We've talked to the recreation department. So people can go in their neighborhoods and not have to drive far distances to get to the classes."
She said it is an expensive process, which is why she has come up with creative ways for fundraising.
"We are applying for our 501(C)(3), which costs money," Britton said. "Everything costs money. We have had a few donors, and most of the members of the board are putting their money into it. I am putting a percentage of my class teachings into it. None of us want to go get a loan from the bank. So we are pretty much doing this on a shoe string."
Both Britton and Greenberg are excited to start planning with local schools, centers and clubs to provide affordable arts classes to the youth community.
The goal is to be able to provide two full scholarships, but all other participants will have to pay an affordable price for their fine arts education.
"We've got to get out there in public," Greenberg said. "There are dancing schools but people have to pay a lot of money. My feeling is that students would have to pay a nominal fee — that way they are making a commitment to be in it. When you teach dance steps, you must be consistent."
Britton said she urges anyone who likes to sew to contact her about volunteering. She will accept all the help she can get in crafting the custom Barbie dolls.
To contact Britton: Vbbritton@gmail.com, or landline 703-379-8997.