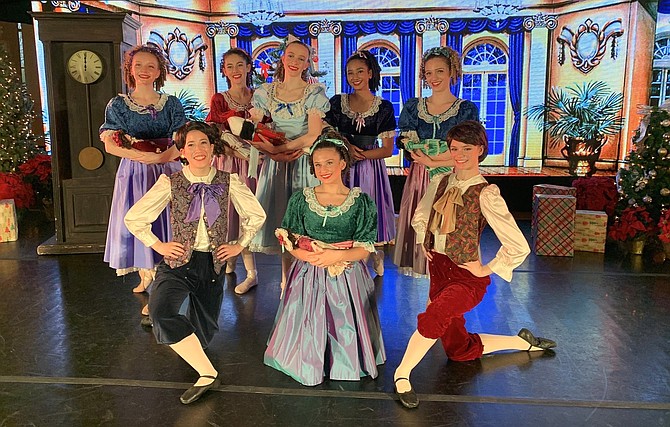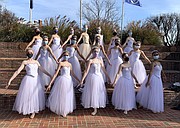 The Fairfax Ballet Co. (FBC) presents an all-new holiday experience with its virtual performance, "Nutcracker: Dancing in the City." The timeless production was filmed in various locations in Fairfax City's Historic District and will be streamed online, Dec. 20-Jan. 3.
"We wanted to incorporate Fairfax City and make it an immersive experience," explained FBC's Andrea Cook, the show's artistic director and choreographer. "So instead of filming it in our studio, we wanted to provide a unique opportunity for our dancers to grow and try something totally new. And they have – it's forced them to really use their artistic expressions as they dance."
Meredith Rainhart, 15, dances the role of Clara, and GMU junior Carlos Martinez performs the part of the Nutcracker Prince. Professional, guest artist Phillip Smith-Cobbs portrays the Mouse King and Soldier Doll, and former Fairfax City Councilman Michael DeMarco appears as the toymaker, Drosselmeyer. The show also features students from the Russell School of Ballet.
Reserve virtual seats at https://www.fairfaxballet.org. Tickets are $25/household. The nonprofit FBC has been staging "The Nutcracker" since 1991. FBC programs are funded in part by ArtsFairfax and the City of Fairfax Commission on the Arts.
Dancing since age 3, Meredith Rainhart, 15, plays the main character, Clara. "The Nutcracker Prince takes her through the Land of Snow and the Kingdom of Sweets," she said. "And at the end, you're left wondering if it really happened or was it a dream? So it's magical."
Rainhart describes Clara as kind, nice, energetic and excited, adding that "She cares deeply about her friends and family." Loving her role, Rainhart said, "I like the acting part of dance – portraying a character with my dancing – and being part of the story and the entire production."
Noting some adaptations the cast of 40 had to make because of the pandemic, she said, "When Clara dances with the Nutcracker Prince after the battle scene, he usually lifts her. But we couldn't touch, so we did the same steps, just further apart, and with a dramatic pause."
Rainhart said the audience will enjoy seeing them dancing outside, for a change. "It becomes more like a movie than a stage production," she said. "And it's more realistic because you can do much more with film effects than you can on a stage."
Stephanie Murphy, 17, has three roles and called this show "an amazing opportunity to be able to perform again this year. It was neat to see everyone's collaboration to dance the roles in different ways."
As the Ballerina Doll, she's in the second party scene. Murphy described this character as "bright, but with a blank face, because she's a doll. So it was fun to explore my acting skills in a new direction." As the Snow Queen, she leads the snow flurries as Clara dances around them and welcomes Clara to the Land of Snow. "Even though we had to change some of the choreography because of social distancing, it worked out really nicely."
Murphy also portrays Arabian Coffee, dancing solo. "It's incredible – such a beautiful dance," she said. "And it let me expand my acting because this character is more mysterious, whereas the Snow Queen is more powerful."
By dancing in various locations around the City, said Murphy, "The audience will be able to go on the journey with us. 'The Nutcracker' is a holiday classic and a great way to see how, even during COVID, we can work together to produce such an amazing, artistic show."
Portraying the Sugarplum Fairy is Nicole Shortle, 17, who's danced in eight previous "Nutcrackers." She's also the first student in the history of FBC and the Russell School of Ballet to perform this role; usually, FBC hires a professional. And Shortle is delighted. "I've watched this show for so many years and always wanted to play this part," she said. "It's super fun and the costume is beautiful."
She's also excited because she didn't expect it to happen during this pandemic. "Dancing is hard work, but moments like this keep you motivated to keep pushing," she said. "The Sugarplum Fairy is queen of the Kingdom of Sweets, so she's elegant, and her dancing is soft and happy."
At the beginning of the show, said Shortle, "Some of the girls are looking in the [Old Town] shops. Then the characters appear in the store windows and come to life when some children come by – which is really creative and cool."
Likewise, DeMarco is pleased to be part of this event. "I've done community theater in the past, and Andrea is a Spotlight on the Arts board member and I'm president, so she told me about this opportunity. I thought Drosselmeyer would be just a cameo, but it's a big role. Historically, he's slightly sinister, but we wanted him friendly and more magical.
"He's Clara's uncle and a toymaker, and he turns the Nutcracker into the prince – which starts Clara's journey. I really enjoyed playing him. I didn't know much about ballet, but it's pantomime – lots of facial expressions and big movements. You exaggerate because you're trying to tell a story without words. Every beat of music has a corresponding movement, and it's critical that you get it right to pass it on to the next dancer."
Overall, said DeMarco, "It's going to be a unique production. Because we couldn't touch to carry in the dolls to the party scene, Andrea worked out a neat pyrotechnic scene where I snap my fingers, fire comes out and the dolls appear. It's very innovative."
Cook thanked the Commission on the Arts for its grant and Fairfax for allowing the FBC to film at its venues. "There are some nuggets from our past productions, but many new things, too," she said. "We also have two new characters –Angelique, guardian of the Kingdom of Sweets, and the Gingersnap – plus special effects. People should really enjoy it."