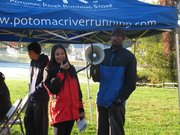 The Vanessa Péan Foundation is sponsoring the second annual VIP 5K run/walk in memory of Great Falls resident Vanessa Péan who died tragically in a car accident on Beach Mill Road Oct. 30, 2005 at age 16. Since 2005, the Vanessa Péan Foundation has been shaping the future of Haiti by providing scholarships to underprivileged children as well as critically needed basic services such as clean water. This 501c3 is dedicated to creating a better future for all Haitians through education and by addressing basic human needs. Over 322 scholarships have been provided and a clean spring water well now provides potable water for a town the size of Great Falls.
Join the Péan family and friends at Lake Fairfax Park in Reston Saturday, Oct. 12. The run/walk begins at 9 a.m.
Experience what it is like to carry water-cans—just like they do in Haiti. You have a chance in a short relay before the 5k run/walk. Individuals can sign up at www.prraces.com, one of three Virginia certified cross-country courses.
A raffle for a new iPad and Kindle will be held at the race site and a silent auction includes gift certificates to local merchants including Chez Francois, Fontaine de Jeunesse "Venusfreeze" treatments, Starbucks gift basket, Stars Studio Private Acting Lessons and private oil painting lessons at Artists Studio on the Green.
VIP 5K race sponsors include The J. Donegan Family, 1 to 1 Fitness, Helen Vasiliadis, realtor of Long and Foster, Strawberry Cottage, and John and Jane Trimble Accounting Services.
Saturday, 8 a.m. through noon, Oct. 12.
Lake Fairfax Park, 1400 Lake Fairfax Drive, Reston
Register online at www.pprace.com under the Vanessa Péan Foundation logo or on race day at 8 a.m. Donations can also be made online or at www.vanessapeanfoundation.org. Checks can be mailed to 343 Springvale Road, Great Falls, VA 22066.