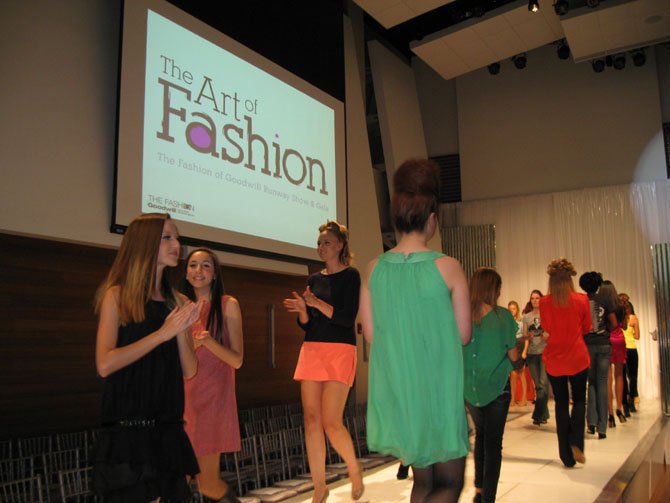 Arlington — Arlington's Artisphere featured the Fashion of Goodwill Runway Show and Gala on Tuesday, Sept. 24, which raised about $155,000 for the cause. With the theme "The Art of Fashion," Vietnamese designer Tu-Anh Nguyen of Fairfax created the show from hand-selected items found at Goodwill of Greater Washington's 15 retail stores.
The show featured 20 models sporting 150 vintage and contemporary outfits in an understated white room with silver chairs and accents to put the focus on the models. Tu-Anh was inspired by TV's "Mad Men" (Megan and Betty Draper), and scanned local Goodwill stores for four months to find 1960s-infused items. She organized clothing by color — full scenes in Pink: Romance, Metallic Neutrals, and Gotta Love Black and White. "So keeping things simple and focusing on the models is much better," she said.
"Everything that was featured in the show was donated to Goodwill," said Brendan Hurley, chief marketing officer. "Everything was pulled from the racks of our retail stores." Proceeds go to Goodwill's free job-training for careers in hospitality and unarmed security services, as well as supporting people with disabilities and disadvantages.
Saxophonist Johnny Long meandered on the runway while DJ Heather Femia selected psychedelic Austin Powers and James Bond-inspired tunes.
Tu-Anh used terms like "raw, unfinished and accidental" to describe pieces she selected off the rack. "As I was pulling, the amazing pieces that I found, it all just tied in," said Tu-Anh, who graduated from Oakton High School and FIT in New York in the 1990s.
"If it's not sexy, stylish and timeless, then I'm not going to pull it," she said. "Less is more — that's my branding … If you overdo it, it looks outdated," she added. The clothing was not modified in any way — just steamed and ironed.
Fashion assistant Morgan Swersey, 22, of Woodbridge just grabbed a rolling rack and cart at Goodwill stores. "I would pull things that I thought would fit the theme," she said. "I had the general theme, but Tu-Anh had her vision." The Madison High grad who worked since May described the process like a puzzle — combining different clothing together.
Sporting fake eyelashes and a beehive flip, model Jen Corey, 26, of Crystal City changed outfits 10 times. Corey was inspired by the retro-1960s style of Joan Harris of "Mad Men," because "she's curvy and so am I." An opera singer, Corey was a former Miss District of Columbia (2009) in the Miss America Pageant, and works as an event planner in Georgetown for her day job.
Events coordinator Leigh Frigm, 27, of Burke, communicated with the models, volunteers and photographers, handling all of the logistics. "This is my first time coordinating behind-the-scenes in a fashion show, and I enjoyed the fast-pace of it," said Frigm, who also modeled.
Em Hall of Chicago helped get the word out on social media, blogging, Facebook and Twitter. "Our idea was to tease different aspects of the show," she said. "I love fashion. To do something fashionable for a good cause is exciting."
Tu-Anh was on cloud-nine the day afterwards, she said: "The reactions and expressions on people's faces during and after the event and seeing people enjoying themselves and shopping with passion made it even more wonderful."
Arts patron Gladys Kemp Lisanby, a Goodwill Guild supporter and member of the Goodwill Board of Trustees, who with her late husband James, was honored for their support to Goodwill.
After the show ended, everything went on sale for under $100 in a popup retail store. Breyana Lehman of Fairfax bought designer shoes for $19.98. "I've always been a bargain shopper, but had no idea that such exciting, trendy pieces were available at my local Goodwill stores."
Danielle Smith of Clifton loved the show, and said she had never considered shopping at Goodwill, "but I am now a convert."
Corporate sponsors were Pepco and CapitalOne Bank, among others. A cocktail reception with hors d'oeuvres by Geppetto Catering preceded the show.
For more details, visit www.dcgoodwill.org and www.tu-anh.com.