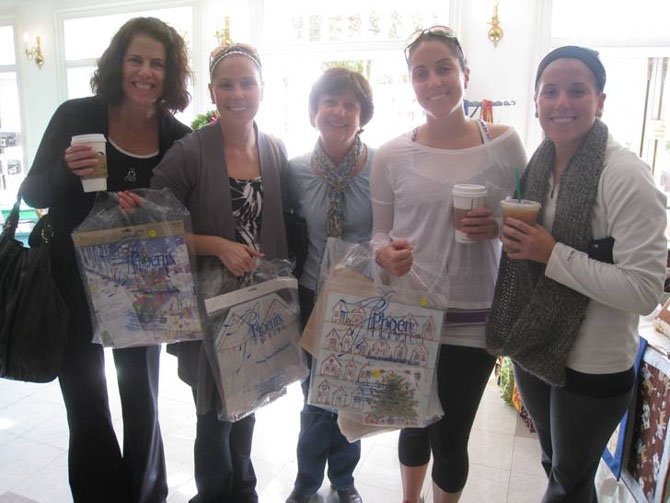 Shopping takes on new meaning when it benefits great causes — and that's exactly what the Metropolitan Community Club Holiday Gift Show proceeds will do. This eighth annual Holiday Gift event will be held at the Potomac Presbyterian Church at 10301 River Road in Potomac, just a half mile northwest of Potomac Village on Friday, Oct. 11, from 5–8 p.m., and on Saturday, Oct. 12, from 10-4 p.m.
Some of the Montgomery County charities that will benefit from the club member's work and dedication are the Women's Microfinance Initiative, Mobile Medical Care, Inc., Manna Food Center, Team River Runner and A Wider Circle.
"Our group feels that there is a need for food and furnishings for families, help for women who are seeking jobs and good health care right here at home, so we target charities in our community," said Susan Magafen, co-chair of the Holiday Gift Show.
The vendors offer a multitude of shopping possibilities for holiday gifts — or just for one's own pleasure. The show will feature jewelry, quilts, handcrafted note cards, scarves, children's clothing, Christmas ornaments and tableware arts and crafts. Some of the vendors are: Stella & Dot, Silpada, Button Jewelry, Venus Rising Designs, Giovanna's Fabric Art, Ibhana Creations, American Classics Children's Clothes, and the Sweet Minerals Makeup Company. A variety of foods will include Greek sweets, fig jam, specialized cookies and Partycake Partycake (cupcakes).
The Metropolitan Community Club of Montgomery County was founded as the Junior Suburban Women's Club in 1974 under the umbrella of the General Federation of Women's Clubs. When most of the members became 40 years old, they knew it was time to move on as members of a General Club. However, the members wanted to remain together and thus, in 1988, they reincorporated their club as MCC. Today the club is still involved in contributing to the community in many ways.
Membership Chairman and Co-Chair of the Holiday Gift Show Joanna Simeone has been affiliated with MCC for five years. "Our Metropolitan Community Club membership consists of dynamic women who want to give back to their community," she said. "In addition to fundraising, the club focuses on six program areas — the arts, conservation, education, home life, international outreach and public issues. We also have a Book Club, a Sunshine Committee and several social activities a year. The club meets in member's homes on the third Wednesday evening of each month from September through May."
For more information about MCC, contact Margie Bedingfield, MCC president, at margie.bedingfield@verizon.net or Susan Greenblatt at sagreenblatt@comcast.net.