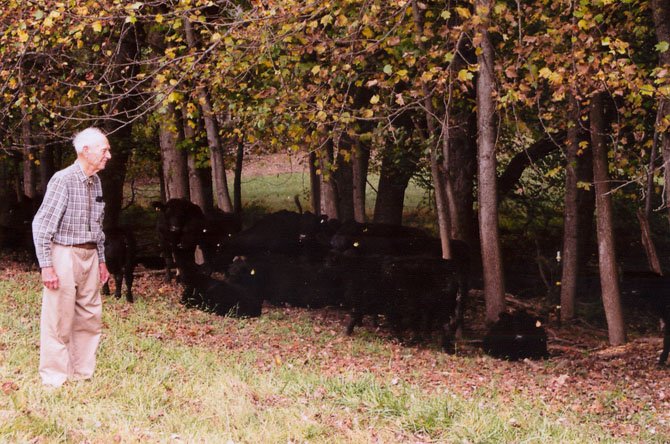 Potomac — Bouncing around in a John Deere "Gator," Bob Hanson in the driver's seat, we were overlooking fields of Timothy hay and pasture land. Black Angus cattle were munching and chewing their cuds. Water glistened on an acre farm pond designed in the 1940s by the U.S. Soil Conservation Board. All this, plus circumventing 70 acres of woodland on a 200 acre farm is what one would call really "Getting Around."
Robert M. Hanson, 89, has been named 2013 Potomac Citizen of the Year. "When they called me my first response was, 'Did you run out of candidates?,'" he jokingly asked. In retrospect, learning about his many accomplishments and interests, one wonders what in the heck took them so long?
First and foremost it is very apparent his love of the land and the animals are his true dedication. What he accomplished since his boarding school days at The Landon School, Bethesda, where he kept his horse and rode home every weekend; a BS degree in agriculture from the University of Maryland; a stint in the U.S. Air Force (2nd Lt.) during the Korean War; dozens of civic activities; plus his professional life, would take most people two life times.
At age 21, Bob Hanson was named the first national president of the Rural Youth of the United States of America, a federation of youths involving Boy and Girl Scout troops, Future Farmers of America, 4-H Clubs, "and groups instrumental in learning from others," he said.
This was just the beginning. Since then he has been a board member of the American Automobile Association (35 years); Montgomery County Fair (he was an original member); 4-H Club (he was a national president); and Future Farmers of America. However, his involvement with the Young Men's Christian Association (YMCA) he dwells on. If not the most satisfying of his civic involvements, it certainly ranks high on the list.
"I am happiest for what I was able to do for the YMCA I was the corporate secretary of the Metropolitan YMCA board of directors and with strong persuasion convinced the executive committee to buy seven lots near The White House that I found were available for sale," he recalled. The lots on Rhode Island Avenue were bought for $60 a foot. They were sold six years later for about $360. a foot. "With that money, the new YMCA headquarters, standing today, were built," he said. In the mid-1950s he was chairman of the Bethesda branch of the YMCA and was instrumental in raising money for their building on Old Georgetown Road. He was equally successful in getting property donated in the 1960s for the Boy Scout headquarters on Rockville Pike
Hanson's interest in youth groups has never waned. He was a Boy Scout troop master for 10 years. To this date, Boy Scouts have camped on the Hanson's Mount Prospect Farm in the 70 acres of woodland for over 60 years. "The youth work has been tremendously important to me," he said.
Married to the late JoAnne Dinwell in 1950, the Hansons had three sons, John, Timothy and Charles. John, Tim and their families live nearby in North Potomac. A third son, Charles, (Chuck) and his family live in Colorado. JoAnne was an active fox hunter with Potomac Hunt as is Tim, who is presently chairman of the Hunt Board. Bob Hanson has been a Potomac Hunt member since 1931 and still keeps horses on his farm.
"Everything on the farm is useable. It's like the pigs. You use everything but the squeal," he said. "I get the best equipment I can buy because I am driving it," he said. Driving it includes mowing and baling 200 tons of hay every year, even as he did this year with a broken leg. He used his walker to help him climb up on the tractor.
"Many things are important to me, but the farm is the most important thing in my life … conservation, agriculture, love of the animals, " he responded, when asked, of all his interests, exclusive of family, what did he enjoy most?
The original 410-acre Mt. Prospect Farms facing Travilah Road was bought by Hanson's parents, "Kip" and Bill Hanson, in 1941. Of this original acreage, Bob farms 200 excluding the woods, "where we estimate over 10,000 Boy Scouts have camped throughout the years." The entire property is now re-zoned for one acre, complete with water and sewerage availability. "It will be developed after I am gone," he lamented. He pauses to recall, "The area was known as Potomac then. Not North Potomac!" Square dances in the family barn were among the frequent entertainment occasions and were a prerequisite to Bob Hanson becoming a square dance caller for friends at numerous other gatherings.
For 60 years he has been a member of the Rockville Rotary Club where he racked up 53 years of perfect attendance. In 1958, he founded the Potomac Rotary Club. At that club's 50-year celebration in 2009, Hanson was the only original member in attendance.
He can add to his list of "original memberships" the Women's Club of Chevy Chase and the Montgomery County Fair. Of the former, after volunteering so much assistance and advice, he was "formally voted in." Of the latter, he was one of the 16 original fair committee members. To this date, Hanson is still active in the fair and annually submits entries including chocolate-covered peanuts, baked cookies and pies for which he has won many blue ribbons. Last year he missed the entry date by a day. With good humor he reported, "They couldn't take it for the competition so I gave the committee my lemon meringue pie to eat. After the fair they gave me a blue ribbon, an old one they found lying around."
Since his wife's death in 2010, Bob Hanson has continued with his penchant for entertaining family and friends, doing the cooking himself. "I do mostly brunch or lunches now. Many of my friends don't like to drive at night anymore. Every Saturday morning there are sour-dough pancakes for the family of eight or more. A brunch often includes crocks of hot soups — butternut, mushroom, or vegetable- beef. "The beef is raised on the farm as are the vegetables," he said, emphasizing once again, "Nothing is wasted here."
Hanson's life has not been entirely committed to philanthropic endeavors. For 33 years he was an allied member of the New York Stock Exchange. "When my secretary of 30 years, Bea Lewis, retired, so did I. I talked with her last night. She is 98 years old now and sharp as a tack," this 89 year old marveled.
With a house full of trophies for all of his good deeds, Hanson appears to equally enjoy many of his awards for competing with his antique car collection that includes an original, custom-built, 1938 Lincoln K. He is the second owner of this 7,000 pound, one-of-a-kind car built by Bunn. It has been driven only 36,600 miles . Among other trophies (one weighs 25 pounds) his Lincoln was awarded the FIVA (French International) for the best historic car of the world. The 1915 Model T Ford touring car that he has owned for 50 years was a vehicle driven by his good friend Andy Loftstrand in last Saturday's Potomac Day parade. A 1940 Ford Deluxe "Woodie" station wagon and a 1971 Silver Shadow Rolls Royce are also in the collection, all comfortably housed with the farm equipment.
Just like the man who does his own farming, everything on this farm is down to earth.