"Each of our speakers is a history book," Dana Semmes told the standing-room-only crowd at the Shanghai Café in the Potomac Oaks Shopping Center. "They will share with us memories of Potomac long ago in the '30s, '40s and 50s." The speakers were Mary Charlotte Crook, Robert Hanson and Leonard Proctor; all recounted memories of a much smaller Potomac where everyone knew one another and life was more easy-going. The speakers were introduced by Elie Pisarra-Cain, also a long-time resident of Potomac.
Crook, the first speaker, was born in September 1920 in Washington D.C. Her grandparents, the Saunders, lived in Potomac and she spent many Sundays visiting them. During the Depression, her family left their D.C. home and moved in with her grandparents. "No one asked why we moved. I don't know if it was to give our neighbors our home since they lost theirs, or if it just seemed too over-the-top to have two homes. Her great-grandfather built the home in 1853 and named it Ellerslie, an American version of Sir William Wallace's home in Scotland. Her nephew, John Troha now lives with his family in the home — the 6th generation of the family to reside there — and Crook lives in a smaller home on the property.
Crook worked for the Department of the Navy for 33 years. When she retired, she began volunteering for the Montgomery County Historical Society where she edited their Montgomery County Story magazine for 15 years.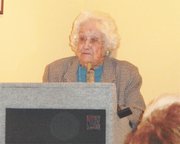 Crook's presentation focused on "The Fortnightly Club" — a Potomac club which met every two weeks. Her mother served as secretary or the club, and left detailed minutes of their meetings. "The Fortnightly Club always focused on a topic such as a country of the world or a famous author," said Crook. "When roll was called, the member had to answer with a tidbit about the evening's topic. One of the members always prepared a speech on the topic. Music was played at the meeting — and they always ended with some kind of puzzle to be solved by the members. The puzzle could be to write a verse of 5 lines that rhyme about the evening's topic — or a riddle about the topic that they had to solve before they left. Food was always served, but in the minutes, I saw that two women were impeached. Apparently, they served dinner and the members were only supposed to serve light snacks! However, the impeachment never went through."
PROCTOR THEN spoke of his many jobs in Potomac. Most Potomac residents remember him as a mechanic at Mitch & Bill's, as a bartender at Potomac parties and as a groomsman, trainer, equestrian instructor and honorary member of the Potomac Hunt. He was born in D.C. in 1930.
Proctor explained that he knew everyone in Potomac in the '50s and '60s. "It was a small town — and I knew where everyone lived. I used to drive kids home when they were stuck in Potomac and it was too far for them to walk." Proctor worked at Mitch & Bill's for 45 years from 1951 until his retirement in 1995.
One of his loves was horses; he learned to ride from his uncle Johnny Jackson. Proctor rode with the hunt as a groom, and had the task of teaching and inculcating the rites of the hunt into the young equestrians. "I had the responsibility of 9 kids at one point." He continued, "I have been riding with the hunt since 1947. I've been thrown a lot of times — but never been hurt." The octogenarian still rides 3 – 4 times a week and is also one of the most sought-after dancers at The Hunt Ball. "I just keep dancing all night."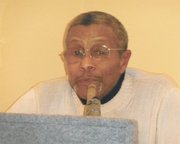 THE THIRD PRESENTER, Hanson, began raising Black Angus cattle and purebred Berkshire swine 71 years ago. His Mt. Prospect Farm is located near the new Travilah Elementary School. When he was in high school, he rode his horse to Landon School in Bethesda and paid his own tuition by exporting pigs to South America. He was active in 4-H and was a founder of the Montgomery County Agriculture Fair. He started fox hunting over 80 years ago, and is an honorary member of The Potomac Hunt as well as a member of many civic associations.
Hanson shared a story of a huge snowfall in the early '40s. He was driving his 1936 Ford convertible back from D.C. down the single-lane Glen Mill Road. "Back then we knew everybody who lived anywhere near us. I was driving in the snowstorm — and I had to go so slowly that I ran out of gas. I stopped at a home where some new folks had moved in. I knocked on the door, and when they answered, I explained who I was and asked if I could use their phone to call home. All of a sudden, I heard a voice saying, 'Our prayers have been answered!' I was surprised, but then the mistress of the house came out and said, 'Finally, a fourth for bridge! Come on in and we'll get it set up!' I stayed there for two nights and played bridge the entire time! It's a great way to get to know your neighbors."
Hanson told of voting at the old Travilah store, being selected by President Truman for the Juvenile Delinquency Commission and saving Robert Moran's life when Robert was in a terrible car accident. He also touted builders Ray Norton and George McConahy for setting the tenor of Potomac by establishing a village of beautiful homes on large lots and building the white fences that is a symbol of Potomac.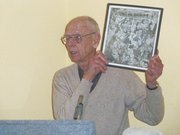 Another story shared by Hanson was that George Patton once rode with the Potomac Hunt. However, Hanson said, Patton was not a gentleman when it came to jumping his horse. If a horse balks and refuses to jump, the rider is supposed to pull the horse to the side and let the others behind him go ahead and take the jump. However, Patton would try jumping his horse again and again, holding up the rest of the pack. Hanson said, "This made me really angry — and I wanted to tell him, but I held my tongue."
The afternoon gathering was sponsored by the Potomac Oak Shopping Center, located at 12944 Travilah Road at the corner of Glen and Travilah Road. The center plans to host a free monthly community event to strengthen the bonds of the community. On Feb. 19, they will host Judy Rose Siebert who will present a seminar on "Body, Mind and Spirit" (a movement workshop). In the spring and summer, the center will feature outdoor music programs. For information, e-mail thesemmes@verizon.net or call Dana Semmes at 240-882-8055.