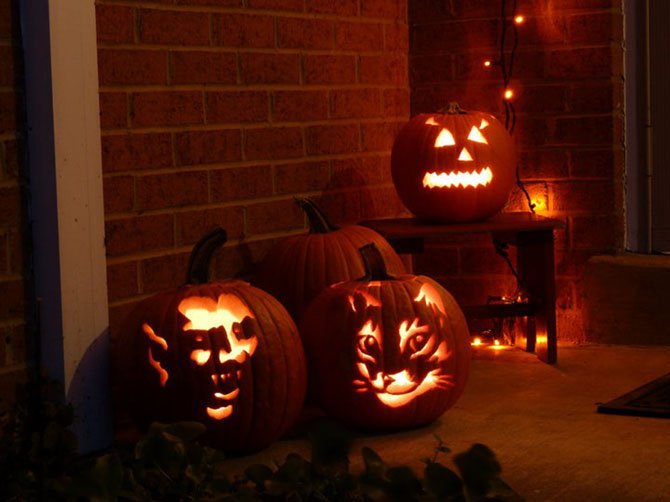 Vienna — "Carving a pumpkin, because of its size and shape, can be a challenge, even if you have good knife skills. If you use a knife, make sure it is sharp and work slowly."

— Christine Wisnewski
Whether your goal is to carve and decorate the best pumpkin on the block or simply use this fall gourd for Halloween inspiration, local culinary experts offer pumpkin ideas that will keep the season festive.
Before embarking on a pumpkin carving project, take a look at the condition of your knives. "Generally speaking, a dull knife is a dangerous knife," said Christine Wisnewski, a culinary instructor at Culinaria Cooking School in Vienna. "And a pumpkin, because of its size and shape, can be a challenge, even if you have good knife skills. If you use a knife, make sure it is sharp and work slowly."
Wisnewski generally advises eschewing chef's knives for a pumpkin carving kit, usually found in supermarkets and craft stores. "The cutting tools may look less impressive than your best kitchen knife, but they do work well," she said. "The small blades are deeply serrated and make quick work getting through dense pumpkin flesh."
Pumpkin carving kits are also a solution to the safety issue. "If the kids do want to carve, no one's fingers are at risk with these little carving tools," she said. "Our family has managed to get many years of use out of the tools that came with our first kits."
Executive Chef Eddie Ishaq of Wildfire in Tysons Galleria said, "Keep it safe and always carve with adult supervision," when children are carving. For the third consecutive year, Ishaq will visit the two kindergarten classes at Louise Archer Elementary School in Vienna on Oct. 31 to offer pumpkin carving demonstrations, discuss Halloween and serve slices of pumpkin pie.
Another expert tip is to use templates. While pumpkins with traditional triangle-shaped eyes and grins with missing teeth have their charm, if you want something more original, patterns can help create an ornate jack-o-lantern.
"Tape the pattern to the pumpkin and then transfer the design by poking along the lines of the pattern and into the pumpkin with the sharp tool meant just for this task," said Wisnewski. "A nail or skewer would work too. Anyone can be an expert pumpkin carver with the patterns and kits available."
If you prefer more originality than a pattern or template can provide, Wisnewski suggests letting your design be inspired by the shape of your pumpkin, and any of its individual characteristics. "Maybe that stem is a nose, maybe that tangle of seeds spilling out of its mouth is proof that your pumpkin wasn't feeling very well — a favorite idea of boys, young and older," she said. "If you are up for something more mod, drill it full of holes for a polka dotted look. If sparkle is more your thing, don't carve at all, go with glitter."
If you're interested in eating the pumpkin in addition to carving it, Anna Reeves, culinary instructor and owner of Tiny Chefs with locations in Arlington, Alexandria, McLean and Fairfax, Va., and Potomac, Md., said, "This is also a great time of year to tell kids that pumpkin is for more than carving and pie. This high-value ingredient fits into every meal of the day."
She suggests getting a boost of vitamin A by roasting chunks of sugar pumpkin. "[They] are delicious roasted until tender along with quartered shallots and sage leaves," she said. "Mix the sweet roasted vegetables with hot pasta and cream cheese or goat cheese for a nice, fall-inspired dinner."
For more ideas, Wisnewski suggests taking a class at Culinaria Cooking School: Pumpkins — Sweet and Savory is being offered Oct. 26 at 2 p.m. and Nov. 6 at 7 p.m. Students will explore the culinary side of pumpkin with dishes like Creamy Pumpkin Chowder with Smoked Bacon and Pumpkin Brulee.