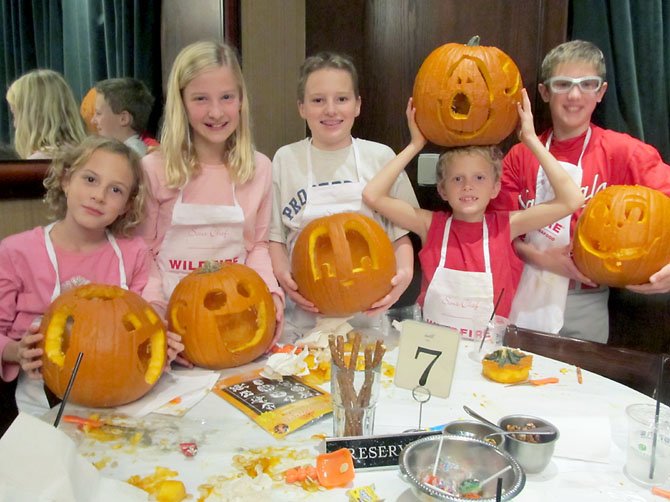 Armed with knives and other sharp implements, more than 50 children butchered, chopped, gouged and chiseled with glee at Wildfire restaurant on Saturday, leaving a slimy trail of orange guts across the tables.
Photo Gallery
Carve Pumpkins in McLean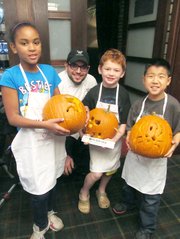 Click Photo for Flash
But their victims didn't scream or cry; some even wore gap-toothed smiles after the slaughter.
Fortunately, the butchery was all in the name of good fun and a worthy cause as Wildfire, the upscale eatery in McLean's Tysons Galleria, hosted its third annual pumpkin-carving workshop and contest.
For the $15 per child registration fee, each child received a pumpkin, a set of plastic carving tools, stencils and a goody bag to take home. Wildfire also donated a portion of the proceeds to Food for Others in Fairfax, the largest distributor of free food directly to people in need in Northern Virginia.
Wildfire Executive Chef Eddie Ishaq said the restaurant has been donating to Food for Others for several years. "We try to give back to our neighbors and community as much as we can," Ishaq said, noting that Wildfire hosts several holiday-themed events that benefit the nonprofit food bank.
"What I thought was awesome was seeing families do this together, as well as doing something for a good cause. Food for Others is a wonderful community resource," said NBC4 Weekend Anchor Angie Goff. "I hope this event becomes a family tradition."
Goff and Ishaq led the hands-on carving session, and judged the contest.
Children of all ages spent the afternoon carving sweet, scary and zany pumpkins and munching on gourmet roasted pumpkin seeds as their parents helped with the carving duties.
"I liked that the pumpkins were pretty much already gutted," said Erin Ackerman of Great Falls. "Everything was set up and ready to go."
Mary-Margaret Herndon of Berryville said this is the third year she and her family have traveled more than two hours for the event. "It's a fun family thing to do with the girls. They really love it."
The O'Sullivan sisters from Great Falls—Anna, Cecelia and Evelyn—debated which stencils to use for their pumpkins, but they all agreed on the best thing about Halloween. "Candy, candy, candy!" the girls chanted.
When all the pumpkins had been carved, Ishaq announced the winners. First place: Ethan Choi, right, of Chantilly; second place: Zach Sylvester of McLean; and third place: Skyler Brown of McLean. They all received gift certificates to the restaurant.
"This was so much fun, and my pumpkin turned out pretty cool," said Choi.