Telford to Go 'Over the Edge'
BethAnn Telford has a brain tumor, but it doesn't have her. Through the pain, the medication, the bad days and the setbacks, she not only keeps on going, she rises above it all and shines.
Besides working full time, she participates in marathons and endurance events to raise money for others, especially children, who also have brain cancer. This Sunday, Oct. 27, she'll run in the Marine Corps Marathon in Washington, D.C.; and two weeks later, she'll rappel down a 40-story building in San Diego.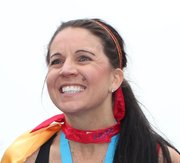 "This will be my 12th Marine Corps Marathon in a row," said the Fair Lakes resident. "It was after I ran it in 2005 that I was diagnosed. So I can't stop running it because I don't want cancer to beat me. As long as I'm able to run, I'll continue running this marathon."
Telford's trying to raise as much money as she can for Accelerate Brain Cancer Cure via her nonprofit fund-raising organization, Team BT. ABCC's mission is to invest in research aimed at finding the fastest possible route to a cure.
LAST SUNDAY, Oct. 20, she ran the Army 10-Miler in honor of America's military veterans and as a training run for the upcoming marathon. She also does Bikram hot yoga, which helps her mentally and physically, and runs three days a week, about 40 miles total, besides doing abdominal exercises to keep her stomach strong.
The Marine Corps Marathon raises money for various charities, and Telford will be one of 10 people participating in it for ABCC. "I'll be running for 26 kids who've either died or are very sick from brain tumors," she said. "It's 26.2 miles, and the last .2 mile is for children with all types of cancer."
It's the first time Telford's run in honor of so many people, and the event organizers gave her 26 coach's bibs so 26 people may run alongside her to assist her during the run "to help me get through this," she said. "And each one of the 26 children I'm running for will have someone running for them."
Except for mile 13 at Haines Point; there—where Telford first got sick in 2005—Jake Turner, one of the children she's running for, will join her to run a mile. And that, she said, is "truly special."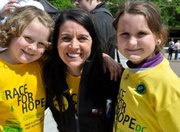 After undergoing major bladder surgery last year, said Telford, "On the whole, I feel good. The bladder's holding up pretty well, and I'm being careful and listening to my body and my doctors. On days when I'm in a lot of pain, I just cut back and rest."
Six days after the marathon, she'll leave for San Diego for an event called Over the Edge. It, too, will raise money for Accelerated Brain Cancer Cure, and participants will include American Idol David Cook, whose brother died of a brain tumor.
While there, Telford will visit some schools to discuss her experiences during the October 2012 Ironman World Championship in Kona, Hawaii, where she swam 2.4 miles, bicycled 112 miles and ran 26.2-miles. She'll also share her journey battling brain cancer with the students.
Then on Nov. 9, she'll rappel off the ocean side of the 40-story, Manchester Grand Hyatt Hotel in the appropriately named Over the Edge event. She's doing it in honor of two girls with brain tumors, Madeleine Baet, 11, of Manassas, and Anya Zvorsky, 10, of her hometown in Pennsylvania.
"Going over the edge is the least I can do for a child suffering from brain cancer," explained Telford. "It'll probably take between a half hour and one hour to get from top to bottom of the building. And although I'm afraid of heights—if I can get it together, set my fear aside and do it—it'll be my way of showing these children that anything is possible."
TO CONTRIBUTE to her fundraising efforts for either this event or the marathon, go to www.teambt.org, which has a link to the ABCC website.
"I think Over the Edge will be the most extreme and adrenaline-pumping event, yet," said Telford. "But every day, these children face challenges in their lives. And even though I'm trying to fight brain cancer, myself, I'm willing to go over the edge to help them fight it. Brain tumors are the number-one cancer killer of people 20 and below, so it's important to raise money and awareness of this."