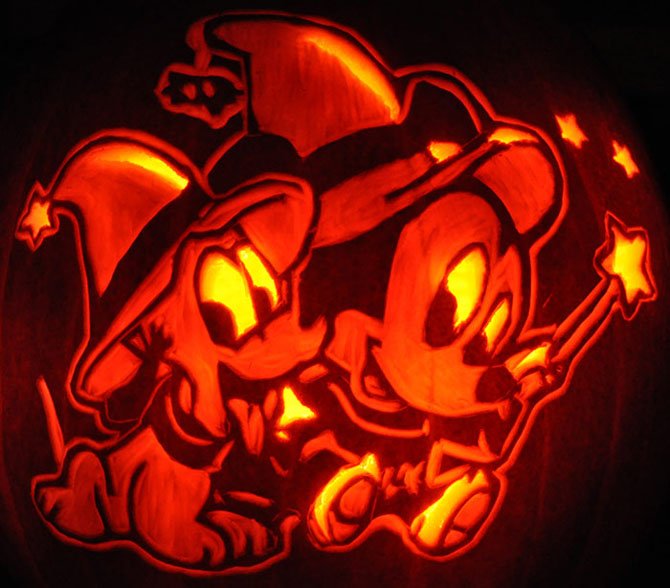 Directions to Dickovers' Home
The Dickover home is at 14223 Hartwood Court in Centreville. From Route 28 south, turn left on Compton Road, go down the hill and up again. Take the first left onto Hartwood Lane. The third right is Hartwood Court, and the house is on the corner of Hartwood Lane and Hartwood Court.
Halloween is next Thursday, Oct. 31, and that means more than 1,000 people will flock to Noel Dickover's home in Centreville to see the latest fantasy pumpkins he and his crew have created.
Each Halloween, he displays the pumpkins outside his house at 14223 Hartwood Court and enjoys visitors' reactions as they "ooh" and "aah" to the glowing, orange, candlelit spectacle.
Photo Gallery
Fantasy Pumpkins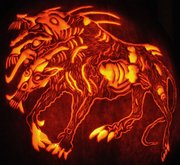 Click Photo for Flash
There are usually some 50 pumpkins depicting everything from cartoon characters for children to scary and intricate characters from science-fiction novels, movies and video games. And those who've seen the display look forward each year to returning.
"We've established a trend," said Dickover, a federal contractor, science-fiction fan and expert pumpkin carver. "People start asking me in July what I'm carving."
He's been designing and carving Halloween pumpkins for 15 years now. And over the years, he's shared his knowledge and techniques with his wife, Nam; son Justin, a junior at GMU; daughter Sarah, a Centreville High sophomore; nephew Joseph Chang, plus other assorted friends and relatives. So this year, 11 people total are carving pumpkins for the big night.
Dickover creates his own designs and, sometimes, does special requests. "Justin's girlfriend wanted to do a Virginia Tech pumpkin, so I created the Virginia Tech Hokie pattern for her to carve, and she did a great job," he said.
He's been doing this specialty for so many years that he no longer needs to use patterns. When he finds something he wants to carve, he said, "I trace a picture on the pumpkin and create my own details."
It takes Dickover from one to 24 hours to carve each pumpkin, depending on the degree of difficulty and complexity. Those he completes earlier are kept in the refrigerator to preserve them. He coats the cut parts with Vasoline and sprays them with a bacterial solution to keep the pattern moist and prevent fungus from growing.
He's purchased 42 pumpkins so far, but says, "I'll probably buy some more. I get them at Whole Foods." They then become the canvases for his art.
This year, visitors will be able to see a scene from the Angry Birds video game, plus large and small starships from the most-recent "Star Trek" movie. And, said Dickover, "On a large pumpkin, over 80 pounds, I'm doing a huge, yucchy, disgusting zombie."
Each member of the carving crew decides what images they want to carve, so there's always a variety. The death star from "Star Wars" is one of Dickover's most-popular designs ever, so he's doing it again on a 40-pound pumpkin.
Also on display will be a werewolf, Spiderman, a graveyard, the Tron motorcycle and a dragon fighting a warrior. "Sarah did Nine Tails, a Pokémon character, and Justin will do some evil characters, including the grim reaper, a skeleton and maybe a zombie," said Dickover. "There's also Cerberus, the three-headed guard dog of the underworld."
Meanwhile, young children will enjoy seeing characters such as Sponge Bob, Mickey Mouse, the Grinch, Winnie the Pooh, and Dory from the movie, "Finding Dory."
So what's the best part for Dickover? "Getting the whole family, and friends, around the kitchen table carving pumpkins and enjoying it," he said. "It's an easy thing to do and people can do it, themselves."
To view his previous Halloween creations, or for pumpkin-carving tutorials, links, plus free patterns and stencils, go to www.fantasypumpkins.com. To see the current pumpkins, add /2013-pumpkins/ to the end of that Web address.