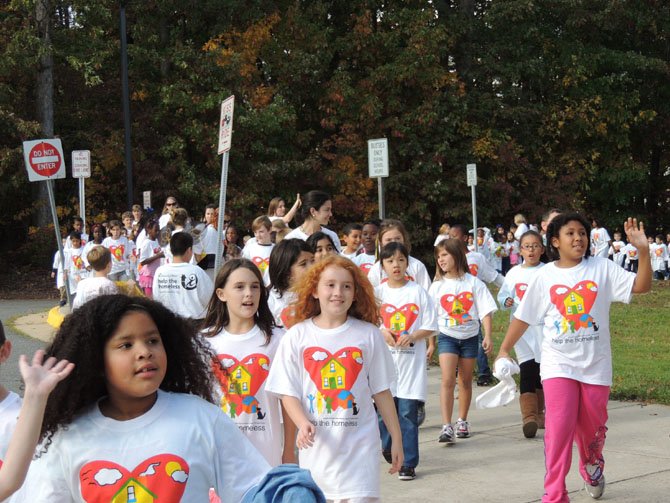 Join with your neighbors, friends and colleagues to make a difference for low-income families, senior citizens and children living in southeast Fairfax County by participating in the first LCAC Service Stroll on Saturday, Nov. 16. For years the Lorton Community Action Center (LCAC), a local human services nonprofit organization, participated in the Fannie Mae Help the Homeless Walk both as a way to generate significant funds ($56,000 last year) and to also build community. Now, LCAC is launching its first LCAC Service Stroll at the Workhouse Arts Center.
The stroll (means you can run, trot, walk, push a stroller, or tow a Red Flyer wagon—be creative) starts at 10 a.m. Join the event to walk for 45 minutes around the Quad at the Workhouse and then enjoy refreshments and see the Home for Dinner exhibit in Building 16 beginning at 11 a.m. Register online at LortonAction.org or call 703-339-5161, ext. 150 to request a hard copy of the registration form. Family (four or more): $30; adults $15; children (12 and under): $5. One hundred percent of the proceeds benefit LCAC.
Register by Nov. 13, as the participation fee increases after that date. The first 500 people to check-in on stroll day will receive a free t-shirt thanks to Sentara Medical Center of Northern Virginia, the supporting sponsor. EnviroSolutions, the Stroll's Lead Sponsor, will match registrations fees and donations and the value of in-kind food donations—dollar for dollar—up to $10,000. Help the LCAC reach the goal of $20,000. Bring nonperishable food items to the stroll to place in the Home for Dinner exhibit and help your favorite local elementary school win the Food Drive Challenge.