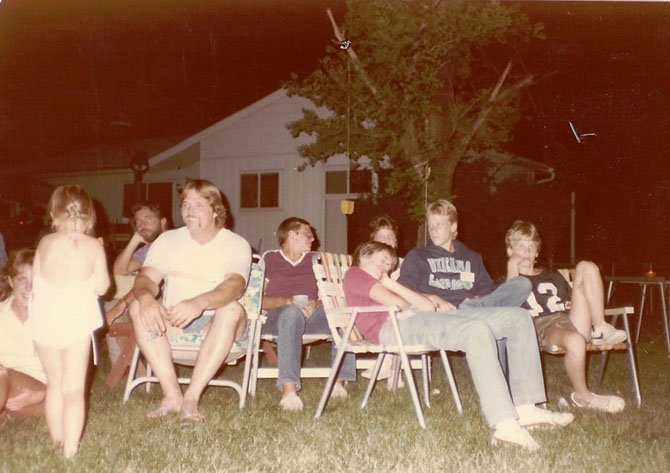 Joe Murphy and Jim Dunne, both Irish-Catholic alter boys from "up north," have been neighbors, friends and friendly competitors for nearly 50 years.
The two men, now in their 80s, bonded quickly when they moved their families to Vienna's Dunn-Loring Woods neighborhood in the early 1960s.
"As soon as I heard he was from Brooklyn, we bonded," Murphy said, in a still-prominent New Jersey accent. "We spoke the same language. We both came from immigrant Irish families, and we're both focused on our Catholic faith and our families."
When the two start talking about one of their proudest accomplishments—the long-running annual Dunn-Loring Woods block party—they become their own Martin and Lewis comedy team.
"We try to come back every year. This was a great place to grow up and just be a kid. It still is."

—Michael O'Roarke, who brought his wife Joan and son Lan to Saturday's 51st annual Dunn-Loring Woods block party.
"I'm the cute one. He's the tall one. Don't forget that," Murphy said, as the two sat in Dunne's house one afternoon reminiscing about the famous block party, now in its 51st year. The event has been featured in local and national newspapers, magazines and television news spots.
"I started the tradition back in 1962 when we bought our house. The best part of the block party, the part all the kids loved," Murphy said dramatically, glaring at Dunne, "was 'The Secret Movie.'"
"Big deal," Dunne shot back. "We moved the party down to this end of the block, and added some innovations … "
"Oh, he innovated all right. He innovated away all of the good things," Murphy said.
"Hey Joe, it's about me now," Dunne said. "Who began inviting the Merrifield firefighters as a way of thanking them for protecting our families?"
"And who do they call the Mayor of Syracuse Circle? Ask him that," Murphy said.
"We really do like each other," Dunne admitted. "He deserves a lot of credit for getting this started. If it were for Joe, there wouldn't be a block party."
"Ok, I always knew you loved me. Jimmy's a great fella," Murphy said, breaking into one of his signature Barbershop Quartet numbers. "There's a Hole in the Bottom of the Sea," Murphy sings, shuffling along with a soft-shoe routine.
"Stop, you're making me seasick with that song," Dunne complains with a wink.
On Saturday, Sept. 7, both men were honored for their community service by more than 75 Dunn-Loring current and former neighbors, who gathered for the 51st annual neighborhood block party.
Frank Piazza, who officially took over the block party duties when Dunne retired last year, started the evening off by welcoming families and community leaders to the event.
"I know I have some big shoes to fill," Piazza said, "which is why I want to thank a whole team of people who helped make this event happen this year. We have a lot to thank Joe Murphy and Jim Dunne for. They always made neighbors feel welcome. Once you become a neighbor, you're always part of the family."
Children were invited to hold the flag as the evening started off with The Pledge of Allegiance. Murphy, a former Barbershop Quartet member, then led the crowd in a series of patriotic songs, beginning with "God Bless America." Supervisor Linda Smyth (D-Providence) presented Dunne with a Certificate of Appreciation from the Fairfax County Board of Supervisors and took questions from neighbors about neighborhood concerns.
Dunne and Murphy welcomed firefighters from the Merrifield District Fire and Rescue Department, who brought their trucks for children to climb in, and took part in the always-popular water balloon fight.
"That is something that I will never forget," Murphy said, welcoming old and new neighbors, who attended with their children and grandchildren. "This just shows the type of wonderful neighbors we have. This is a little bit of Americana that you just don't see anymore."
Murphy began orchestrating the event in 1962. His secret to success was his dogged determination, organization and the "secret movie."
"I had a list of assigned dishes for people to bring. I knocked on neighbors doors to make sure they came, and I collected the money from each family for all the plates and cups and stuff like that," Murphy said.
"I felt there were a lot of people who wanted to participate but not sure if they should, so I tried to do as much organizing and door-knocking as I could," Murphy said.
The main event was Murphy's "secret movie," a children's film he selected and projected on a sheet hung in his back yard.
"We all remember the secret movie," said Bruce Henning, whose parents, Fred and Christine Henning, were asked to host the annual party in their yard as a condition of the sale of the house when they bought the home in the 1970s. "It was a little like Christmas. For weeks ahead of time, all the kids would ask Mr. Murphy 'what's the secret movie?' We all tried various ways to get the information."
Murphy said not even his own children knew, because he always hid the film reel in a clever out-of-reach place that he changed every year.
"I'd go out and get 16 MM projector, we'd see 'Sinbad the Sailor,' 'March of the Wooden Soldiers' … 'El Sid,' now that was a bomb," Murphy said. "But the beauty of it was it would get dark and the kids would all spread out blankets on the lawn to finally get to see what the secret movie was. They loved that."
Over the years, the event evolved. The secret movie was dropped when the children got older and lost their enthusiasm for films they could see at the new multiplex mall theaters. And the event was moved from June to September to avoid the frequent June thunderstorms.
But one aspect of the event hasn't been lost in the half century of its history: the sense of neighborhood and community that brings families together for one evening a year.
Dunne said he and Murphy are proud of the diversity in the neighborhood.
"The families in the neighborhood represent a mini League of Nations," Dunne said. "We have neighbors born in China, Greece, England and India, and others whose heritage goes back to Ireland, Ukraine, Italy, Mexico, Croatia and Canada."
"We love the diversity. Everyone is welcome here," said Charlene Acuna, a longtime neighbor who attended with her husband's parents, her children and grandchildren.
"We try to come back every year," said Michael O'Roarke, who brought his son Lan and wife, Joan. "This was a great place to just be a kid. It still is."