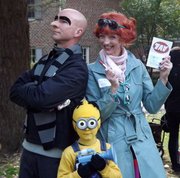 Approximately 300 neighbors attended Chesterbrook Woods Citizen's Association's (CWCA) Oktoberfest Block party on Oct. 27. The party was designed to appeal to residents of all ages by including live music by Laissez Foure, moon bounces, face painting, games and a Halloween costume contest. The Cumberland family were costume contest winners wowing neighbors as a minion, Gru and AVL Agent Lucy Wilde from Despicable Me 2. Wendy Cumberland said, "This is our 5th CWCA Oktoberfest party. Halloween brings out the kid in all of us and we love having fun with our neighbors."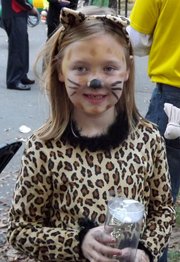 Some of the other contest winners included Madeline Feldner as a leopard and Amelia Heil as a princess. Neighbors enjoyed chatting with each other, playing games and eating yummy snacks, salads, pasta dishes, bratwurst, hot dogs and Halloween themed desserts. Washington-area favorite, Louis the Magician, charmed kids and parents as he performed an entertaining magic show with a live rabbit.
CWCA Party Organizer Extraordinaire, Julie Schwan, was thrilled with the perfect weather after Hurricane Sandy caused a week's delay in last year's party. She thanked the many neighbors who brought food, helped with set up and clean up, and manned events throughout the day. Leftover food and drinks were donated to Share of McLean.