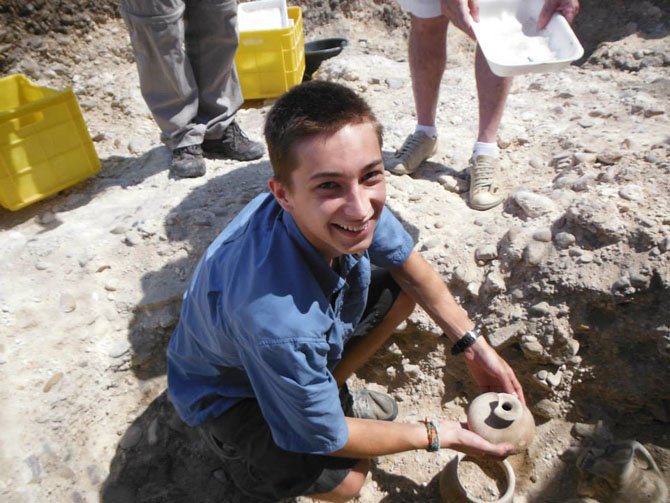 A former baseball player for South Lakes High School in Reston, Ben Raymond is used to spending time playing in the dirt. But this summer, his time in the dirt took on a whole new meaning.
Raymond, who graduated from South Lakes High in 2011, is a junior at James Madison University pursuing his Bachelor's Degree in anthropology with a minor in computer information systems. His desire to study anthropology to learn more about other cultures and their practices lead him to apply for an archeological dig program in Spain. "I was trying to look for a field school or some place where I might be able to get some experience in archeology," Raymond said.
The program he applied for was through an organization called ArcheoSpain, which brings those interested in archeology from all over the world to dig at historical sites in Spain and Italy. "Ben and his co-workers learned not only how to conduct an excavation but also how to interpret the archaeological clues discovered," said ArchaeoSpain director Mike Elkin. "Over the past decade, our joint Spanish-international crews have uncovered priceless information about Spain's ancient past."
Raymond spent three weeks excavating a necropolis, or cemetery, in the ancient city of Pintia, in Valiadolid, Spain. He and his team of seven others worked with Spanish archeologists to unearth artifacts of significance from the site. "We'd find pottery, animal bone, bits of human bone, some pieces of metal, things like that. We were basically looking for possible tombs," said Raymond.
He and his team worked five days a week, beginning the day early, but enjoying the common Spanish siesta in the afternoon. Daily tasks for the students included removing layers of dirt and passing off the dirt to others to sift through for artifacts, mapping of the site, cleaning pottery and piecing artifacts back together. The team uncovered three tombs at Pintia and several artifacts within the tombs in excellent condition.
"By excavating the necropolis of this culture that we were studying, we can find out a lot more about what they believed in, based off the items that were found in the tombs. We can find out a lot more about their day to day life, what they thought was important and significant," said Raymond.
Since Raymond had never taken part in any archeological field work before, he used his experience in Spain to gauge whether archeology might be a future career path for him. "It was a really eye-opening experience. I think something like this sticks with you forever so I'm sure in my future career I'll be using things that I learned back in school and things that I've learned back in my experience in Spain," said Raymond.