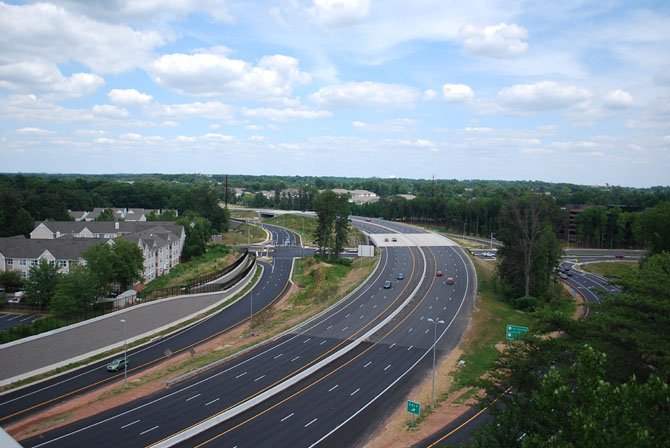 Parkway Interchange Project Completed
It's been a long time coming, but the Fair Lakes interchange is just about done. And last Thursday, Sept. 12, Virginia Gov. Bob McDonnell joined local officials here to cut the ribbon on a project improving travel for drivers on the Fair Lakes and Fairfax County parkways, plus Monument Drive.
"It's great to celebrate these achievements," he said. "The Fairfax County Parkway has been a lifeline of this county for so long. This was a marvelous story of VDOT and our private-sector construction teams working together, and it will benefit this county for a long time."
An interchange was needed because of constant traffic congestion and rush-hour backups at the intersection of both parkways. Motorists on Fair Lakes Parkway and Monument Drive also benefited because local and parkway traffic are now separated.
The Fairfax County Parkway was widened within the existing median to six lanes—three in each direction—between I-66 and Route 50. And Fair Lakes Parkway was enlarged to accommodate the necessary left-turn lanes for the interchange.
Signalized intersections at Fair Lakes Parkway and Monument Drive were eliminated, and the new lanes on the Fairfax County Parkway made traffic flow better from south of I-66 to north of Rugby Road. The project's centerpiece—a split-diamond, grade-separated interchange—was constructed so a free-flowing Fairfax County Parkway would bridge over Fair Lakes Parkway and Monument Drive.
LAST WEEK, McDonnell, VDOT representatives and local politicians gathered in the parking lot of Logan's Roadhouse in Fair Lakes, overlooking the new interchange, to celebrate the project's completion and recognize those responsible for its success.
"This was a $69.5 million project, and it was finished on time and within budget," said county Board of Supervisors Chairman Sharon Bulova. "I congratulate everyone who worked on it. And it was miraculous to see the traffic continue to flow during the work."
Noting that the money fueling this project was a combination of state and local dollars, plus $40 million in federal stimulus funds, she also thanked Rep. Gerry Connolly (D-11th) for helping funnel those stimulus dollars to the interchange effort.
"Transportation improvements sometimes move at a glacial pace, so it's important that officials have the determination to find the funding for them and then follow through," explained Bulova. She also praised the ornamental lighting, sound walls and landscaping installed throughout the 3-mile project area. And she thanked McDonnell "for bringing new transportation dollars to this area," adding that the interchange "will enhance the identity of Fair Lakes."
Supervisor Pat Herrity (R-Springfield) described the Fairfax County Parkway as "one of our main streets." He said such the interchange project couldn't have happened without the teamwork and leadership of entities including VDOT, the Fair Lakes League, county staff and local businesses.
He also thanked the governor plus Secretary of Transportation Sean Connaughton—also at the ceremony—for "making such a significant impact on transportation in Virginia." Afterward, Herrity said his own contribution to the project came early on.
"The high, electrical transmission wires crossing Fairfax County Parkway had to be raised, and Dominion had allocated two years on the project timeline for utility relocation," he said. "So I contacted Dominion and asked them if they could do it sooner—and they did it in four months, shaving a year-and-a-half off the project time."
IN ADDITION, said Herrity, VDOT and Shirley Contracting worked well with the surrounding businesses to make sure they didn't lose customers because of the project. He said VDOT "listened to the business owners and then revised and adjusted its detours so people could still get to the businesses."
State Sen. Dave Marsden (D-37) called the project "an example of state, federal and local government working together." And Del. Jim LeMunyon (R-67) said he hoped it would be one of many more ribbon-cuttings they'd be doing now that Northern Virginia has "some money to make a difference."
"This is the type of congestion-mitigation project that gets people from point A to point B," said Del. Tim Hugo (R-40). "We'll next be working on I-66/Route 28."
McDonnell praised the police for steering traffic around the workmen to keep them safe during the course of the project. And, he said, "We've made a sea change in transportation funding in the most congested area—the Washington Metropolitan area—in the nation."
He said that the $3 billion bond package in 2011, plus more monetary advancements this year will generate $17.6 billion over the next six years. "This is a 54-percent increase over the last six-year plan," said McDonnell. "When Northern Virginia does well, so does the rest of the state."
And while pleased with the completion of the parkway interchange project, he said, "It's just a down payment on the future traffic improvements that you'll see here in the coming years. They're key to enhancing the entrepreneurial climate here and attracting businesses. If you don't have good roads, you can't attract families to come here and live."