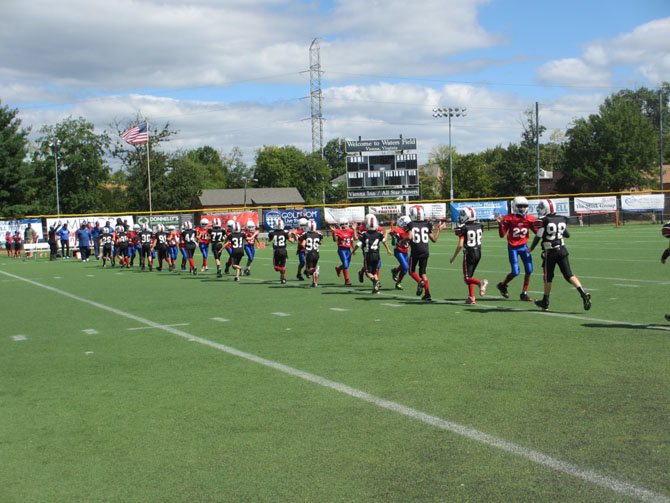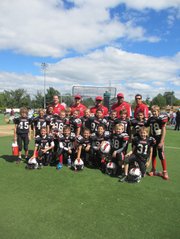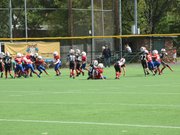 County league plays seven regular-season games.
There's pro football, college football, high school football … and then, there's VYI football. On a crisp fall day, it's a long-time Vienna Saturday tradition. And now, Fairfax County's youth football season is in full swing.
Vienna Youth, Inc., aka VYI, kicked off its regular season on Sept. 14. Waters Field was busy all day with games, one after another. Waters is not the typical youth football field, either: it's made of artificial turf, has a huge lighted scoreboard and it has stadium lights for night games. And, unlike Washington's professional team, VYI teams have a winning record. Youth football divisions are based on weight and age together.
Garbed in Vienna black/red/white, the 80-pound division Wolfpack took the field in Saturday's opening game. The Ft. Hunt Titans came in from Alexandria and, in a close finish, lost to the Wolfpack 13–12. Twelve-year-old Zachary Butler, number 66, ran for Vienna's first touchdown and extra point. Drew Nayak, 9, scored the second touchdown for Vienna. Jonathan Grubbs, 9, recovered a fumble for the Wolfpack.
Play-by-play "reporters" Tommy Grubbs and Andrew Butler, both 13 years old, ran along the sidelines giving an account of the plays and downs. Butler, whose own game was scheduled for early evening, plays for the 115-pound division. Asked if it was harder to be an NFL player or a youth football player, Butler was quick with a response. "It's harder for us because we have school all day and practice to juggle," Butler said. "And we're not getting paid."
Butler and Grubbs each had siblings playing for the Wolfpack, who made big plays for the team.
Grubbs said he thought Vienna's strength was its defense. Butler thought Vienna's strength was its offense. Both said the offense had some "amazing" plays.
With less than one minute left in the game, the Titans had the ball and were marching to the goal line. As the defense made substitutions, a coach pulled aside one of his tackles. "No one gets past that line," the coach said. "Hold them." The defense did, the offense got the ball back, and closed out the game with a win.
—Donna Manz