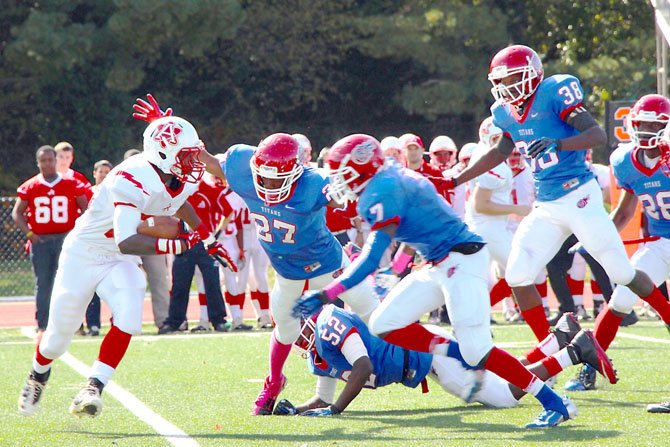 Alexandria — T.C. Williams defensive lineman Jeremiah Clarke busts through the Annandale pass protection in the second quarter and sacks Atoms quarterback Joe Bermingham on fourth down. In the third quarter, junior defensive back Rashawn Jackson intercepts a pass and returns it 64 yards for a Titans touchdown. Later, senior defensive back Tim Garvin gets in on the action, scooping up a fumble and taking it 33 yards to the house.
This was the kind of defensive effort T.C. Williams head football coach Dennis Randolph envisioned the Titans producing earlier in the season. Now, the team is hoping it's not too little, too late.
T.C. Williams defeated Annandale, 52-7, on Oct. 20 at Parker Gray Stadium. The Titans defense came up big during its homecoming game, holding a second consecutive opponent to only one touchdown. One week after defeating West Springfield, 24-7, TC improved to 3-5 and held onto its slim playoff hopes with a lopsided victory against the Atoms, who dropped to 1-7.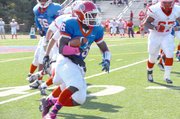 "Defensively, the last two weeks, we've turned it up a notch," Randolph said. "We're playing the way I expected us to play against Westfield, Robinson, Lake Braddock, South County [and] Woodson. That changes the whole dynamic of the game when you know you're going to play defense."
After shutting out Wakefield in the season opener, TC allowed an average of more than 40 points per game during losses to Westfield (55), Robinson (40), South County (60), Lake Braddock (21) and Woodson (28). The last two weeks, TC has surrendered just seven points per contest. Defensive coordinator Avery Williams said the Titans are finally starting to execute.
They're also making plays. TC has 11 sacks in the last two weeks, including four from Clarke, who stands 6 feet 5 and weighs 250 pounds. Jackson made his presence felt in the Titan secondary, recording 11 tackles to go with his pick-six.
"He's an outstanding player," Williams said about Jackson. "He's one of our top athletes, as well as one of our top football players. He was injured early on in the season, he's just now really getting back 100 percent and now he's showing his playmaking ability."
Junior linebacker Kevin Perry had a team-high 12 tackles against Annandale, and seniors Isaiah Bunch and Marcus Streeter each had one sack.
TC also experienced plenty of success on the offensive side of the ball. Running back Dealo Robertson carried 26 times for 218 yards and two touchdowns, giving him 433 yards and three scores in the last two weeks. Despite missing a game due to a rib injury, Robertson has rushed for 1,017 yards and nine touchdowns with two games remaining.
"Defensively, the last two weeks, we've turned it up a notch."

— T.C. Williams football coach Dennis Randolph
"Dealo's been able to run the ball extremely well lately," Randolph said. "When you can run the ball and don't have to throw it, then it makes your passing game much more effective."
"Effective" is certainly one way to describe the Titans' passing game against the Atoms. Quarterback Alec Grosser completed 16 of 22 passes for 231 yards and three touchdowns. He connected with 6-foot-2 senior receiver Julius Cooper six times for 124 yards and two scores.
Cooper is in his second season playing receiver. He showed his athleticism against Annandale, out-jumping an opponent to make a catch and later breaking a tackle to score a touchdown.
"I've definitely seen him grow up," Grosser said about Cooper. "He's a playmaker now."
Landon Moss, who has battled an ankle injury, caught three passes for 46 yards and a touchdown. He has 45 receptions for 551 yards and eight touchdowns this season.
TC will close the regular season with a pair of road games. The Titans will take on Lee at 7:30 p.m. on Friday, Oct. 26 and face West Potomac on Nov. 2. TC will likely have to win both games and receive some help from other teams in order to make the playoffs. The TC football program hasn't reached the playoffs in 21 years.
"Every game is our game," Jackson said. "… We've got to win it and we have a chance to make it."