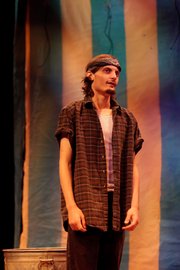 Christian Morrow of Great Falls has been selected to play Mac Sam for the University of Mary Washington production of "The Miss Firecracker Contest."
Morrow is the son of Hugh and Anne Morrow of Great Falls and is a 2011 graduate of Langley High School.
Morrow, a junior psychology major, has previously appeared in the UMW productions of "Harvey" and "The Tempest."
"The Miss Firecracker Contest" takes place in Mississippi where Carnelle Scott, known locally as "Miss Hot Tamale," has entered herself into a local beauty pageant in hopes of salvaging her reputation. Complications arise when her cousin, Elain, who has previously won the title, comes back into the picture. While strategizing their win, Carnelle and her friends overcome their tainted pasts and learn to live for the future.
"The Miss Firecracker Contest" is a Southern comedy by American playwright and screenwriter Beth Henley. The comedy premiered in 1980 at the Victory Theater in Los Angeles and was adapted into the film "Miss Firecracker" starting Holly Hunter in 1989. Henley is currently a distinguished professor of theatre arts at Loyola Marymount University in California. She has received the New York Drama Critics' Circle Award and the Pulitzer Prize for Drama, among other awards.
The upcoming performances will be Sept. 26-28 at 8 p.m., and Sept. 28 and 29 at 2 p.m. in duPont Hall's Klein Theatre. Tickets are $12 for general admission and $10 for students, senior citizens and military. For more information or to purchase tickets, call the Klein Theatre Box Office at 540-654-1111 or visit http://umw.tix.com/.