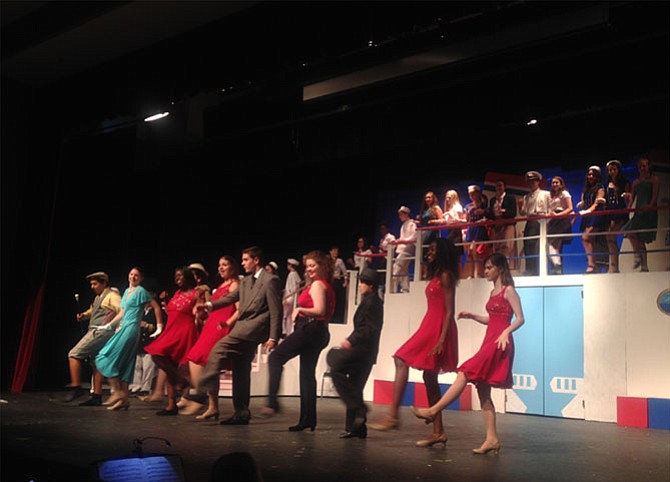 The Grand Musical Theatre Experience returned to Herndon High School with a production of the musical "Anything Goes!" Previous productions have included "Bye Bye Birdie" and "Hello Dolly." This will be the final drama production in Herndon for theatre director Zoë Dillard, who is retiring to North Carolina to pursue editing and writing. Dillard says the change is bittersweet, as she has enjoyed her experience at Herndon High. The popular musical brought mistaken identity, romance and comedy to the Herndon High School stage.
The musical had performances on July 31-Aug. 2 at the Herndon High School Auditorium. Morganne Davies will take Dillard's position at Herndon after the summer production. "Anything Goes!" features music and lyrics by Cole Porter. The original book was a collaborative effort by Guy Bolton and P.G. Wodehouse, and the story concerns madcap antics on an ocean liner bound from New York to London. "It was an interesting project, to create a ship on the theatre stage," said rising Herndon High senior and tech director Pat Hammes.
"This is really a great show, I think the set is amazing and the acting is spot on," said high school sophomore Isatu Fofanah. Fofanah has the role of an angel in the production. Many parents assisted with the set construction in this production, and Herndon High School Choral Director Dana Van Slyke led the chorus and ensemble.
Assisting the technical production team was Herndon High alumnus Justin Burns, who graduated in 2012. Now completing his studies at JMU, Burns previously worked on the tech team drama productions as a student at HHS. The cast for the production included students from around the area, some of whom attend schools in Reston, Herndon and Loudoun County. The Grand Musical program has students from schools across the area, ranging from rising seventh graders to recent high school graduates. "I've made a bunch of new friends and I would do this program again," said Jalen Robinson, a rising freshman at South Lakes High School in Reston.
Dillard thanked parents and volunteers for their assistance in this year's Grand Musical Theatre program. Herndon High students in the production included Vaheed Talebian, Victoria Schrag, Becca Wichman, and Matt LaRosa. Playing the role of Moonface Martin was rising eighth grader Ethan Van Slyke. The entire cast and production team included almost 50 persons.
For more information on Herndon High drama and the upcoming productions, visit www.herndondrama.org.