Leonard Kalkwarf can best be described as a true Renaissance man; an avid history buff, the 85-year-old resident of Greenspring retirement community in Springfield is also an accomplished athlete, an ordained minister, and a published author. His advice to other seniors is simple: keep active and stay positive.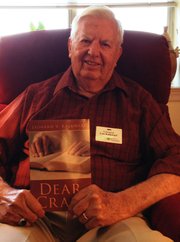 Born and raised in Iowa, Kalkwarf received his undergraduate degree from Central College and continued his studies at the New Brunswick Theological Seminary in New Jersey. From there, he received two master's degrees: one in education from New York University and a second in sacred theology from the Lutheran Seminary in Philadelphia. He also earned a doctorate of ministry from Princeton Seminary and an honorary doctorate of divinity from Central College. Kalkwarf spent 50 years in parish ministry as an ordained minister of the word and sacrament in the Reformed Church in America. Thirty-four of those parish years were spent at the Reformed Church in Willow Grove, Pa., a congregation to whom his most recently published book, "Dear Craig," is dedicated. The book, titled with his grandson in mind, brings biblical figures to life and gives each modern personalities.
"The book took me one year to write and 40 years to research," said Kalkwarf. "Dear Craig" was drawn mostly from sermons that he had given over his career. By gathering both historical and biblical information, Kalkwarf was able to create three-dimensional views of each character in a series of letters. This book, unlike his two published children's textbooks, is intended for adults.
"DEAR CRAIG" was published this summer and is now widely available on Amazon, at Barnes & Noble, and through WestBow Press.
With a desire to be nearer to their grandchildren, Kalkwarf and his wife moved from Pennsylvania to Greenspring retirement community in Springfield in 2003. At Greenspring, he continues his church service by leading two Bible study groups, preaching frequently on Sunday mornings, overseeing the community's Thanksgiving Eve and Christmas Eve services, and producing a Maundy Thursday drama production every year which he wrote and published.
While living at Greenspring, Kalkwarf has also turned his sights to athletics. "Every morning, I walk 3 to 4 miles at Greenspring," said Kalkwarf, who also regularly utilizes the community's fitness center. Growing up on a farm in Iowa, Kalkwarf indicated that there was no time for after-school athletics, as he was needed as a helping hand at home. Rather, it is his walking at Greenspring that first encouraged him to sign-up for the Northern Virginia Senior Olympics several years ago.
THIS YEAR, Kalkwarf earned five gold medals at the games in the 3-mile walk, 400-meter walk, 60-meter dash, 10-pin bowling, and horseshoes events. Kalkwarf crossed the finish line in the 3-mile walk in just 44 minutes and 14 seconds. "It is a very fast-paced walk," said Kalkwarf.
But he doesn't stop there. Kalkwarf also leads the billiards club and horseshoes club at Greenspring, bowls in a regular bowling league, hosts a presidential history program on the community's in-house television station, and also finds time each week to volunteer in the office of presidential correspondence at the White House. For the past four years, Kalkwarf has been responding to emails, letters and phone calls from the American people on behalf of the president.
In what remains of his leisure time, Kalkwarf and his wife enjoy visiting presidential sites all across the country. They started in the Midwest with the sites of Lincoln, Hoover, Truman, Eisenhower and Clinton, and have now completed visits to 41 sites, just missing those of Teddy Roosevelt and George W. Bush. The two also spend a few months every summer at their vacation home in Readfield, Maine.