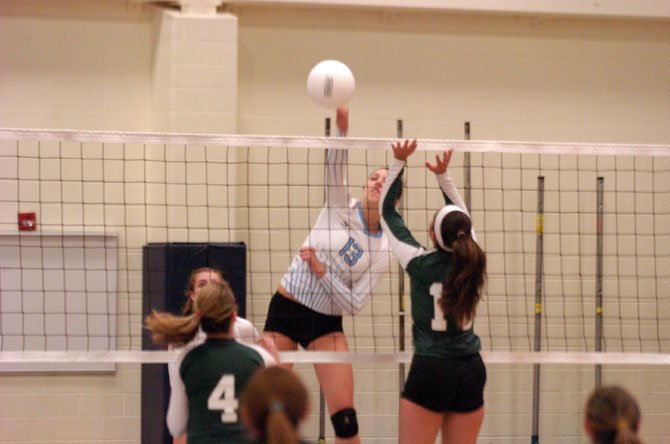 Members of the Yorktown volleyball program notice differences in approach between first-year head coach Stefanie Carpenter and former leader Brittanie Behar.
The Patriots, however, are expecting a similar level of success.
Yorktown defeated Falls Church 3-0 (25-5, 25-8, 25-15) on Monday at Yorktown High School. The Patriots improved to 5-1 in best-of-five matches under Carpenter, winning five straight after losing to South County. Two days later, Yorktown made it six in a row with a 3-0 victory against Fairfax on Sept. 25.
Carpenter coached in Michigan for 15 years before moving to the Washington, D.C.-metro area for a consulting job. Her desire to return to coaching led to Carpenter taking over a Yorktown program that won the last two National District championships and reached the 2011 Northern Region semifinals under former coach Behar, who led the Patriots to four district titles in seven seasons.
"I do expect that we would have the same level of success. We have some very talented [athletes]."

— First-year Yorktown volleyball coach Stefanie Carpenter
"I do expect that we would have the same level of success," Carpenter said. "We have some very talented [athletes]."
One of those athletes is 6-foot-1 senior outside hitter Haley Molnar, who is committed to the University of Pennsylvania. On Monday, Molnar finished with nine kills and seven digs against the Jaguars.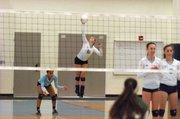 "Haley's not just the best hitter," Carpenter said, "Haley's our best passer, too." Molnar said Carpenter focuses on the technical aspect of volleyball.
"She's more into passing," Molnar said. "… She's more [about improving our technical skills], while Brittanie is like, let's play, play, play, get more touches."
Senior outside hitter Jane Townshend, who had five aces against Falls Church, is pleased with what Carpenter has brought to the Patriots.
"Stefanie is a great coach," Townshend said. "She has more emphasis on conditioning and going to the weight room, making us stronger, so I think that's definitely beneficial. [She also teaches] attention to detail. We all wear warmups now and I think that's made us more refined as a team."
Senior libero/outside hitter Brooke Maloney had five aces against Falls Church. Sophomore libero Rachael Osborne and senior setter Reilly Burlingame each had five digs and Burlingame had nine assists.
Yorktown has seven athletes listed at 5 feet 10 or taller, including 5-foot-11 Burlingame and 5-foot-10 middle hitter Annabel Hungate.
Yorktown will compete in the Stuart Raider Rumble Invitational on Saturday, Sept. 28.