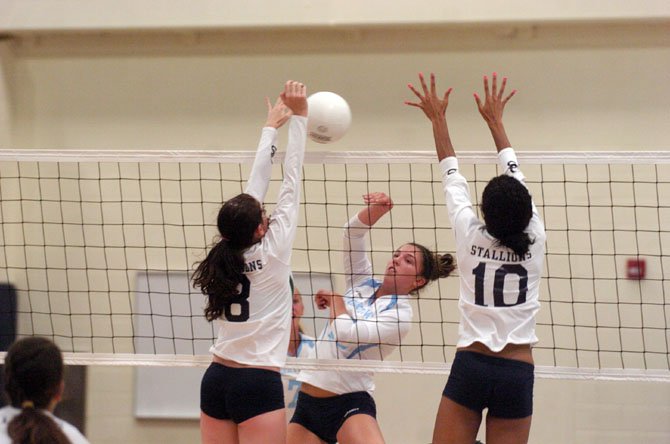 Arlington — Middle hitter Hayley Molnar did most of her damage at the net during the Yorktown volleyball team's season opener against South County, but it was the junior's jump serve that provided an electric end to an energetic Patriots' effort in the deciding fifth game.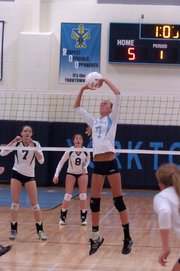 Molnar elevated near the end line and smashed an ace, putting the finishing touch on a 3-2 (25-23, 25-17, 18-25, 20-25, 15-4) victory at Yorktown High School. The Patriots won the first two games, but South County battled back to force a fifth. Yorktown came out energized, scoring the first four points and seven of the first eight. The Stallions cut their deficit to 7-3, but the Patriots scored eight of the final nine points to close the match.
"It was really exciting," Yorktown setter Reilly Burlingame said. "I was ready for it to end. I was tired."
Molnar obliged. In the fifth set, she tallied five kills, one block and the match-winning ace. She finished with 20 kills, six blocks, six digs and two aces.
"Playing four games is really tough," Molnar said, "but you have to push [in the fifth game] and energy is a big component — and also spirit, because we really wanted to win our first real [match] of the season."
Molnar's 20 kills led an otherwise balanced Yorktown offense. Junior outside hitters Brooke Maloney and Jane Townshend each had six kills, and Burlingame and junior middle Annabel Hungate each had five.
Burlingame, who took over the setter position from her graduated sister, Kaley Burlingame, totaled 35 assists. Molnar and Burlingame play club ball together, as well.
"They're a good two-some," Yorktown head coach Brittanie Behar said. "They play together in club, too, so I think that really helps their consistency. They're both just really aggressive, excited players and I think you can tell that when you watch them play."
Maloney recorded three aces and Burlingame had two. Senior libero Ashley Meredith and Townshend each totaled 15 digs. Maloney finished with nine digs and Burlingame had eight.
Monday's victory marked the third time in the last two seasons Yorktown defeated South County in five games, including the 2011 season opener and the teams' meeting in the regional quarterfinals. The Patriots reached advanced to the semifinals where they lost to Stone Bridge, finishing one win shy of the state tournament. Yorktown also won its first National District title since 2008.
The Patriots will travel to face Oakton at 7:15 p.m. on Tuesday, Sept. 4.