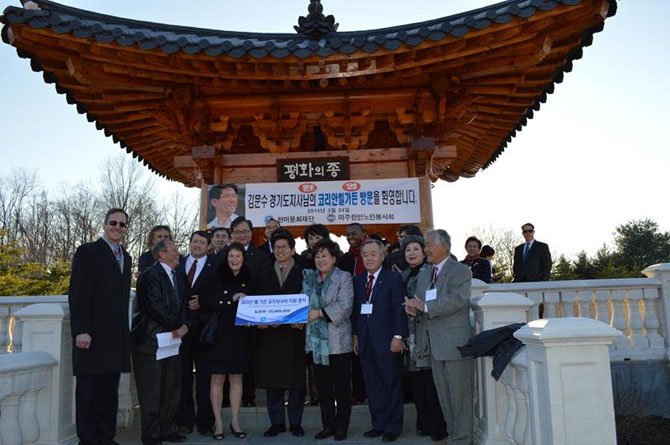 The Northern Virginia Regional Park Authority has announced that Kim Moon-Soon, Governor of the Gyeonggi Province of the Republic of Korea, donated $10,000 for the long-term maintenance of the Korean Bell Garden during his recent visit to the Meadowlark Botanical Gardens in Vienna. Governor Kim has a long standing relationship with the people of Fairfax County and has been an active part of the creation and completion of The Korean Bell Garden. The bell garden was fully funded by donations from the Republic of Korea and the Gyeonggi Province. This is the only traditional Korean garden with a bell in the western hemisphere and the only Korean bell on the east coast. The two--ton "Bell of Harmony" was donated by Governor Kim and the Gyeonggi Province in 2011 and is the jewel of the Bell Garden. The bell combines images of nature from both Korea and Virginia as a symbol of the Korean-American population in this region.
Governor Kim took turns ringing the bell with Fairfax Supervisors Pat Herrity, Cathy Hudgins and Chairman Sharon Bulova, as well as Korean members of the community. Governor Kim expressed his appreciation of the garden while ringing the bell with Chairman Bulova.
"Enjoy the lasting sound of the bell. The long sound is a symbol of our long lasting friendship," Governor Kim said.
Brian Knapp, NVRPA Chairman, thanked the Northern Virginia Regional Park Authority and Meadowlark Botanical Gardens for allowing the organization and completion of the Bell Garden to take place at such a beautiful location. Knapp also thanked Governor Kim as well as all of the Korean-Americans in the community and Washington area, "This collaboration is a reflection of the friendship that exists between our two communities. For many years to come this will become a destination for the Korean-American folks who live in the United States, but we are also hoping for lots of visitors from Korea to come to this bell garden."
"The people of the Gyeonggi Province have a very warm feeling towards the people of Fairfax and Virginia, even greater than the bell we have built together. Not many people of the Gyeonggi province are here today, but we want you to know that all of them feel as one with the people of Fairfax and Virginia, "said Governor Kim.
Chairman Bulova also shared why the bell garden is significant to the region and community, adding "this area has such a large and vibrant Korean-American population. Their heritage is our heritage and the Korean Bell Garden is a celebration of partnership between this county and Korea."
For more information about this event and The Korean Bell Garden, visit www.NOVAParks.com.