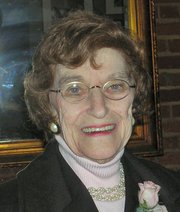 Patricia Ann Rohrer, a popular and well-known Alexandria pianist for many years, died Feb. 26, 2014 at her home in Alexandria. She was 87, a fact that can only now be revealed, as she always claimed to be 39 when asked her age.
The cause was respiratory failure brought on by chronic lung disease and pneumonia.
Born in Cumberland, Md. in 1926, her parents were Wyand and Nancy Doerner, lifelong parishioners of Saints Peter and Paul Church there. Her siblings were Kathryn (Kreidler), Wyand F. Jr., John L., and Margaret Mary (her twin), all deceased.
Pat was a graduate of Ursuline Academy, Cumberland and attended Saint Joseph's College in Emmitsburg, Md. In 1947, she married Charles W. (Bill) Rohrer, whom she had known since childhood. The couple lived in New York City for a number of years, then settled in Alexandria. She was a member of Saint Rita parish.
Pat Rohrer was many things including wife, mother and homemaker, sketch artist, cub scout den mother, homework helper, crossword puzzle fanatic, story reader, raconteur, bowler and amateur linguist. But her lifelong love was for music. She began playing the piano at the age of five, imitating her older sister. Later, she took lessons from the Ursuline Sisters at Saints Peter and Paul School, and then studied with Mrs. Lua Syckes of Cumberland.
As both soloist and accompanist, she performed at church, school and social functions in Cumberland, at college and the community at large. She and her husband collaborated on an album of their original songs, "Mostly Love," and co-wrote a musical play (unpublished).
Over the past 30 years, Pat played for more than 100 community and professional musical theatre productions in the Washington area, several under her musical direction. She played solo piano at fashion shows, shopping malls, nursing homes, parties, weddings and receptions. Her work with revue groups, children's theatre, AIDS benefits, recitalists and chamber groups took her to the Kennedy Center, World Bank, National Theatre and the British and French embassies.
She is perhaps best known for her regular Thursday, Friday and Saturday evening performances at various piano rooms in Old Town Alexandria, where thousands of devoted fans and friends over the years gathered around the piano and sang along with her large repertoire.
She gave of herself generously to family, friends and the community and had her last public performance this past New Year's Eve. She was feeling under the weather but insisted on playing because "the show must go on." She will be missed by many.
Survivors include her husband and four children, Michael, Christopher and Nancy who live in the Washington area, and Chuck of London, England. Also, five grandchildren (Philip, David, Julia, Will and Edie) and two great-grandchildren (Flannery and Xavier).