To celebrate Read Across America Day and promote the reading of electronic books, the teachers of Centreville Elementary School challenged the students to read 10,000 books on a website called myOn.com. As an incentive, students were promised to have a special assembly where they could pour slime on the administrators. After a few weeks of intense reading, the students exceeded the goal by reading 10,118 electronic books and had their chance to slime the administration.
Readers from each grade level were chosen to be part of the "Slime Squad" and helped pour slime on the administrators. Both the Slime Squad and the Top Readers at each grade level were recognized at the assembly.
Slime Squad included Lance Choi, Quinn Masi, Annie Bai, Bidan Feng, Lizzie Velasquez-Bolivar, Braeden Joch and Oliver Kasap.
Top Readers were Lance Choi, Landon Nguyen, Bijaya Oli, Amarachi Onugha, Andrew Mangum, Michelle Lee and Shrijana Oli.
Photo Gallery
Reading Empowers CES Slime Squad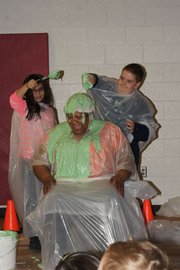 Click Photo for Flash