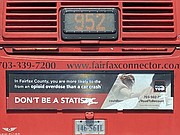 The Challenge: In Fairfax County, opioids are the number one cause of unnatural death. According to the Virginia Department of Health Office of the Chief Medical Examiner, the proportion of all overdose deaths that include fentanyl and fentanyl analogs is higher in Fairfax than all of Virginia.
During the 2019-2020 school year, three juniors at Thomas Jefferson High School for Science and Technology, Umang Jain of Fairfax, Vyomika Gandhi of Aldie and Justin Choi of McLean took note of the complex opioid crisis in their backyard, Fairfax County. The problem did not have a clear answer. Curiosity turned to passion. Passion led to the Conrad Challenge and, with it, nine months of intense work to produce a real product and business plan. According to the Conrad Challenge website, the annual multi-phase innovation and entrepreneurship competition encourages students ages 13-18 from across the globe to address some of the most pressing local and global challenges.
JAIN, GANDHI AND CHOI presented their original invention, the Opioid Overdose Prevention System, or OOPS for short, in the Cyber-Technology & Security category, one of seven categories in the competition. Jain said, "Hearing about the Conrad Challenge, we thought this would be a great opportunity to create something we were passionate about, (something we) wanted to develop and bring to the market… In parallel, in our AP class, we were reading about the opioid crisis." Jain said he and his two friends wondered what if anything was "out there to solve this issue now."
Jain said, "Opioid addiction has taken thousands of lives…Our product aims to prevent the onset of opioid addiction through our secure pill dispenser." According to Gandhi, the team's product had three main components: An app that stored all of the patient's data, a pill dispenser that locked and a health band worn on the patient's wrist that continually monitored the patient's respiratory rate and could detect changes in respiration that preceded opioid overdose. Early detection and rapid intervention could prevent death from an opioid overdose. "The health band has multiple microneedle patches to administer naloxone in 2-3-minute intervals as would be done with Narcan or a naloxone injection," said Gandhi.
While none of the students said they personally knew anyone who had overdosed, each grew more and more passionate to help find a solution. Choi acknowledged the team encountered challenges during the prototype process. He said, "The idea that this was a real product, not just what we put down on paper, doing the research and following it through to an end goal was definitely the hardest part." Gandhi said the team collaborated. They reached out to teachers at the high school, such as one who had a doctorate in neuroscience and another who taught AP psychology as well as others outside of school, physicians and more. "We got their feedback. It was helpful when we were trying to find flaws with our idea," she said.
One of the first challenges the team encountered, according to Choi, was the design of the mechanism on the band for injecting the antidote Naloxone that can reverse opioid overdose but requires timely intervention. Choi said the team discarded a skin patch model, such as one used for migraines. Instead, Choi said he created the CAD designs for an injectable mechanism. Next, he sent it to a friend who had a 3D printer to manufacture. "We had all the parts in place but did not have access to a printer," Choi said. COVID-19 impacted their ability.
AFTER WINNING the Conrad Challenge, Jain said, "We plan to connect patient data collected by our product to physicians and doctors while taking lots of security measures, such as utilizing NASA Technology, to prevent any breaching of data. We plan to further our product by working with patent readers, researchers, health care professionals, as well as using machine learning to build a deep learning model that will enable us to predict overdoses well in advance to provide the patient help before it is too late."
According to the organization's website: "The Conrad Challenge honors the legacy of Apollo 12 astronaut, Charles 'Pete' Conrad, and his four-decade passion for innovation and entrepreneurship."