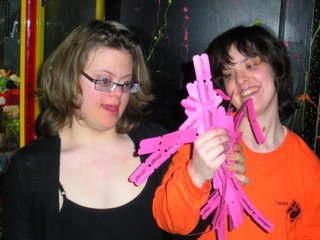 Lynn Ruiz's daughter Lydia, who has Down syndrome, will be graduating from Fairfax County Public Schools this June. Ruiz, a Springfield resident, had originally planned for her daughter to participate in an employment program that helps students with special needs transition into adulthood.
The $1.3 million funding increase to the Community Services Board budget for this program that is necessary to support community members like Lydia was included in County Executive Ed Long's budget presentation on Feb. 25.
However, when Long presented further reductions to the Fairfax County Board of Supervisors on March 18, as the Supervisors requested, the $1.3 million for day support and employment programs was among the possible reductions.
If these reductions are approved, Lydia will be one of the estimated 74 special education graduates this year without funding for these crucial services.
"I think this is just really, really poor planning to throw at people just a couple months before graduation," Ruiz said. "We really didn't see this coming this year."
Ruiz, who works as the director of community relations at the Arc of Northern Virginia, an organization that advocates for individuals with special needs and their families, isn't sure what she is going to do if these cuts are made.
"She needs to have something productive to do," Ruiz said. "My daughter sitting at home means I'm sitting at home."
She said her daughter is ready for employment, but needs funding for services that provide employment skills and job training. For years, Fairfax County has provided these funds for special education graduates, allowing them to enroll in programs that provide transitional life skills.
"Fairfax County realized that's the most productive and the best way to keep these students productive and active in the community. It benefits the whole community," Ruiz said.
If Ruiz were to pay for a transition service out of pocket, she said it would cost her up to $3,000 a month.
Many of the 74 students, including Lydia, are on the waiting list for Medicaid waivers, which would provide the necessary funding for these programs. But Lydia's been on the waiting list for 12 years.
Ruiz, along with numerous other families of children in Fairfax County, was counting on this program.
"This is a huge surprise to many parents. A lot of parents aren't even understanding how exactly this is going to affect them," Ruiz said.
For special education graduates, the transition process can sometimes be difficult. Without these programs, they are unable to receive the support they need in the workplace, Ruiz said.
"If there is no support in that workplace, they are going to get fired," she said.
Special education students exit the public school system when they turn 22. If the program is cut, Ruiz says the momentum the students have from being in school for nearly two decades will be lost.
"You've learned to read, write, count your money; you've learned to do all these things. You're all prepared to be an adult, just like those other kids who are going off to college, and suddenly you're told schools over, and there's no funding out there," Ruiz said. "You have nothing in your life, unless of course you have maybe a mom and dad take off and do things like an almost home-school situation."
And often, that type of situation does occur, either by choice or because of a lack of funding.
Because Ruiz is still waiting for Lydia's Medicaid waiver, and the funding from Fairfax County for these programs may be cut, she may have to quit her job and start her own business, providing her daughter with an employment opportunity.
"She needs something productive to do. I was thinking maybe I'll go back to my business I used to do-I was a photographer before, and she could be my assistant. I don't know," Ruiz said.
Possible cuts to human services programs are nothing new, but the Arc was just not expecting them this year.
"There is a cruel irony in seeing this proposal put forth as a way to allocate more funding for the Fairfax County educational system by robbing the most vulnerable graduates of post-school opportunities," Rikki Epstein, executive director of the Arc of Northern Virginia, said in a press release.
"Fairfax's special education students work hard to develop skills that will help them work and be as independent as possible post-graduation Fairfax County teachers, transition coordinators, and school administrators invest in that potential. To allow these students to graduate without opportunities for support services in the vocational world is a disservice to the work of all involved and a painful misuse of an incredible investment and potential," Epstein stated.
Now, Lydia will be on yet another waiting list, this time for funding for a program that Ruiz was expecting her daughter to start after graduation.
In a letter to Kevin Bell, chairman of the Fairfax County Human Services Council, Ken Garnes, the chair of the Fairfax-Falls Church Community Services Board asked the council to do as much as possible to convince the Board of Supervisors to keep the funding for these employment services.
"Just last month, the Board of Supervisors issued a proclamation supporting and celebrating the inclusion of individuals with intellectual and developmental disabilities in our community. We need to show these June 2014 special education graduates that, as a county, we mean what we say," Garnes wrote.
The Arc of Northern Virginia is encouraging families that will be impacted by the budget cuts to speak at the public hearings in front of the Board of Supervisors on April 10 at 3 p.m. at the Fairfax County Government Center.