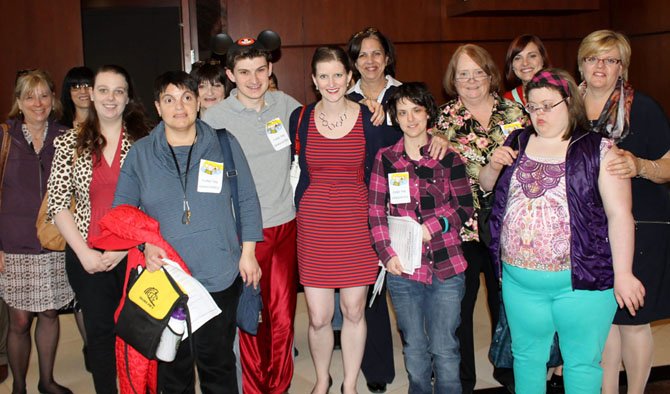 Diana Martin, a Fairfax Station resident, was already losing sleep thinking about how she was going to balance the post-grad needs of her daughter Kenzie with her husband's chemo and medical care.
Now, she is even more concerned as funding for the programs that help special education graduates from Fairfax County Public Schools is included on a list of possible further reductions that County Executive Ed Long presented to the Board of Supervisors on March 18. In early March, the Board of Supervisors issued a proclamation showing their support for the inclusion of individuals with intellectual and developmental disabilities.
The $1.3 million for day support and employment programs helps special education students like Kenzie transition into adult life after graduating from high school. If the program is cut, 74 special education graduates will have no funding for these necessary services.
PARENTS LIKE DIANA who are counting on that funding to ensure their children retain the skills they learned in school testified at the budget hearings on the FY 2015 budget at the Fairfax County Government Center on April 10.
"In a matter of months, I fear all the skills she has worked so hard to gain would slip away," Martin said at the budget hearing. "She needs daily reinforcement that being at home all day cannot provide."
Springfield resident Lynn Ruiz, director of community relations at the Arc of Northern Virginia, spoke about her daughter Lydia's need for a transition program after she graduates in June.
Lydia, who has Down syndrome, has been on the waiting list for a Medicaid waiver for 12 years. Although Lydia still hasn't received a waiver, her mother was relieved when she found out that the graduates would be funded in the FY 2015 budget.
Lydia was accepted into a job training program, which will help her achieve her goal of securing a job at TJ Maxx, where she wants to work so she can buy the fashionable clothes she sees in magazines.
But, Ruiz was forced to worry again when the program was included on the list of possible cuts in March.
"We were jerked back to having to fear for June," Ruiz said.
Rikki Epstein, executive director of the Arc of Northern Virginia, said hopes were dashed when families saw the proposed cuts.
"The families who had been able to breathe a sigh a relief after years of worry and start making plans for the future are now crestfallen, and back at the drawing board, playing the waiting game," Epstein said at the hearing.
Epstein previously noted the irony in the proposed elimination of funding for special education graduates in order to provide more funding for schools.
"We simply cannot afford to pay for school supports today by taking away funding for a meaningful life after graduation. Our students deserve the jobs and opportunities we have prepared them for over the last 22 years," Epstein said.
Ken Garnes, chairman of the Fairfax-Falls Church Community Services Board, urged the Supervisors to retain the funding for the programs in the budget.
WITHOUT THE FUNDING, students will have nothing to do but sit on the couch, said Lucy Beadnell, director of advocacy at the Arc of Northern Virginia.
She said many parents have called, concerned with their options for their children after they graduate.
"A number of parents were asking me, 'do I quit my job to stay at home with them?' And I don't have the answer to that," Beadnell said.
Joyce Jones of Lorton said she was really disappointed when she found out the program for special education graduates might not be funded. She said she isn't sure what she is going to do for her son Marcus if the funding for special education graduates is cut.
"It's really concerning to me, especially because he's about to graduate. It almost brings me to tears. I'm the sole provider. We really depend on these services for him," Jones said.