At this year's Economic Outlook Summit, hosted by the Mount Vernon-Lee Chamber of Commerce and Southeast Fairfax Development Corporation, experts on the local economy and housing discussed the economic forecast for the Route One area and beyond.
David Versel of the George Mason Center for Regional Analysis said that in the wake of the recession, there has been a continuing decrease in federal jobs.
"Federal government cutbacks that began in 2010 with the end of the economic stimulus have continued," Versel said.
The area is now facing 22,000 fewer federal jobs than existed three and a half years ago, Versel says. Since its peak in 2010, federal employment has dropped by five percent. However, this is not because of mass layoffs, but because of attrition.
"Jobs get vacated, people retire, and they aren't being backfilled," Versel said.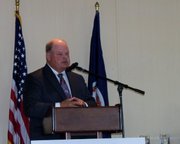 Federal procurement, which Versel described as the driver of the area's economy, has decreased as well.
"We are now down about 11 billion dollars in federal contracting activity in 2013 from where we were in 2010," Versel said. "14 percent of our federal procurement economy has evaporated in the last 3 years."
According to Versel, the private side has not responded very well to the wake of the recession.
"As a February of this year, we've actually only added back 170,000 jobs from the end of the recession. We lost 178,000 jobs during the recession," Versel said. "On a net basis, we are down 8,000 jobs from where we were six years ago in 2008 when the recession began. That is not good news."
Except for education and health services, Versel said at the summit, every sector of the economy has struggled to reach pre-recession employment levels.
The professional and business services sector, the largest employment sector in the Washington, D.C. region, has had an effect on the high office vacancy rate.
"The last year and a half have been not good for this sector, driven largely by the declines in federal procurement," Versel said. "Government contractors are an enormous piece of the pie in terms of office users in this region, and as there has been a cutback in government contracting employment, there's been a decline in professional and business services jobs in the region."
Fairfax County has an office space vacancy rate of 17 million square feet, says Gerald Gordon, the president and CEO of the Fairfax Economic Development Authority.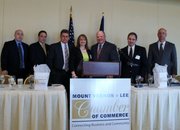 Gordon says the EDA focuses on filling office space, as Fairfax County is the second largest suburban office space market in the United States.
"We have more office space vacant in Fairfax County today than Richmond has office space. We have more office space vacant in Fairfax County today that Loudon County has office space. We have more office space vacant in Fairfax County today than Prince William by a magnitude of two and a half," Gordon said.
Even though there are high vacancy rates and new construction demand isn't usually present until the space is filled to where there are five percent vacancies, new office space is still being built and prices are steady.
One reason for this is companies' demand for space in Tysons Corner and near the Silver line.
"Despite those high prices for the leases, they want to be there," Gordon said.
The second reason is because of Base Realignment and Closure that has brought more jobs to Fort Belvoir.
Gordon says that because of the contractors who need to be close to the gates of Fort Belvoir, office demand in the corridor is needed.
"There will be new construction here in this corridor as well, even though there is a lot of space available elsewhere," Gordon said.
Versel, however, says that all of the jobs that would come because of BRAC have already moved to Fort Belvoir, and the area has not seen an influx of government contractors that was expected. This is partly because government contracting has not expanded, and because companies want to be in Tyson's Corner and the Dulles corridor.
"Being honest with ourselves here, southeast Fairfax has never been a destination for office users. There are few office buildings in the corridor, none of which have been built in the last 20 years," Versel said. "Many of them have struggled to get rents and attract tenants. There was a sense that BRAC and the expanding of Fort Belvoir would fundamentally change that, and that has not come to pass."
Versal said that office space growth in the southern Fairfax area has occurred in the Franconia Springfield area, because of its proximity to the interstate and transit services.
Fairfax County Executive Ed Long spoke about the importance of a multi-year budget plan, and only including budget items that are sustainable for the long term.
Long said that Fairfax County needs to continue its investment in schools and public safety services that make the county such a great and safe place to live.
"If we don't continue to invest in those areas, those will weaken and folks won't want to come here. We have to make sure we continue to make those investments," Long said.
Long was recently presented with a public safety staffing plan, which includes an increase in 352 positions and 53 million dollars over the next five years.
The county is now more dependent on real estate, which makes up 63.2 percent of the budget.
Fairfax County has witnessed apartment increases, Long says, due to the increase of lower wage jobs in the county.
"There are a lot of lower paying jobs that are coming into the county. It's good we have job growth but that poses different issues for the economy. One is affordable housing. Apartments are becoming the affordable housing for folks who want to live in the county," Long said.
According to Versel, most of the growth that has occurred in Fairfax County following the recession has been in the lower-wage industries, including retail and service employment.
"More than half of the job growth we've seen over the last three years has been those earning basically below 40,000 dollars a year, the lower third of our pay scale," Versel said.
Louis Genuario of the Virginia Home Builders Association spoke about home building growth on a national and regional level. According to Genuario, 17 percent of the national GDP is made up of home building. The government shutdown and bad weather has had an effect on home building.
Jon Wolford, the past chairman of the Northern Virginia Association of Realtors, says low inventory, which is the result of low equity, results in rising prices, which will correct the low equity and low inventory.
"Inventory is up compared to last year, but it's still not meeting demand," Wolford said.
According to Versel, transit improvement in the Route One area will create more opportunities for redevelopment. He also said that Huntington is an underdeveloped resource.
"This area is very ripe for redeveloping aimed around residential and retail that supports that residential," Versel said.