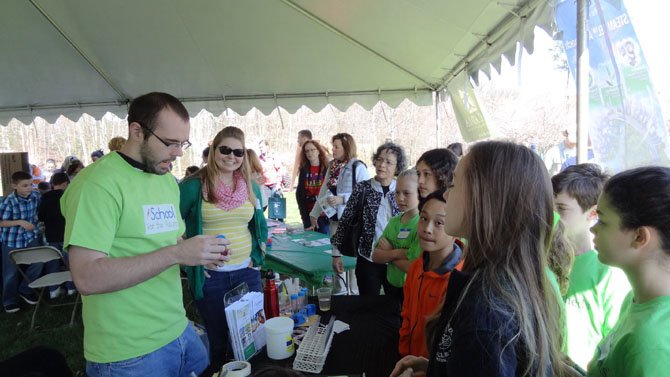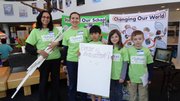 iSchool for the Future demonstrated its unique STEAM SELTM approach to science education during Thursday's 2014 Annual School Environmental Action Showcase, generating interest from students and politicians alike.
The 2014 Annual School Environmental Action Showcase is sponsored by NoVA Outside and George Mason University and brings together schools, students, and environmental organizations from Northern Virginia to share ideas and share eco-projects. The event, held on Thursday, April 10 on the GMU campus, had over 44 schools and 520 students in 52 teams participating. Over 30 partner organizations were invited to lead hands-on science activities for students.
iSchool for the Future both led a hands-on activity and participated as a school team. iSchool's hands-on activities included a mixture of science, technology, engineering, math, arts, and social and emotional life skills (STEAM SELTM). Students used chemistry tools and the scientific method to hypothesize and test predictions of GMU's pond water quality, used math and problem-solving skills to estimate local tree sizes and calculate stored carbon, unleashed their inner artists as they drew a scientist, and discovered more about their own identity through a modified multiple intelligence activity designed to help them understand their own strengths.
This unique mixture of hands-on, place-based activities building both science and social skills attracted the attention of over 200 students and even a visit from Virginia State Senator Chap Peterson (34th District).
Several iSchool students from Forestville Elementary School participated as an Eco-Team to highlight their environmental projects. iSchool currently offers afterschool enrichment programs at Forestville, and has been working with students on a year-long project to help Forestville enhance its outdoor science classroom spaces and improve its Eco-Schools USA status. The students used a display board to explain their project approach, which included learning foundational science, carrying out studies of Forestville's environment, and using study results to drive environmental action. Students highlighted a video they made that urges environmental action by Forestville's entire student body. Office Depot in Sterling, Virginia helped sponsor iSchool's participation in the Showcase.
iSchool for the Future also recently finished a 10-week session of STEAM SELTM classes for homeschooled students at the Great Falls Library. There students studied the library and identified several environmental issues. During a final presentation on April 3, 2014, students addressed an audience of peers, parents, and library personnel and gave recommendations for improving environmental conditions at the library, including planting more trees, improving recycling, and highlighting biodiversity. Students also participated in environmental action projects for the library, including painting and donating a recycling bin to the library and planting flowers to mitigate climate change. The Friends of the Great Falls Library and Daniela Dixon, Library Manager, made this program possible.
iSchool for the Future offers afterschool programs and summer camps in the Northern Virginia area. Visit www.ischoolforthefuture.org for more information about the STEAM SELTM approach and program offerings.