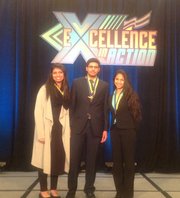 Mohammed Ali, Mount Vernon High School junior, was named president of Future Business Leaders of America's Virginia chapter. Ali was elected during the 2014 Virginia State Leadership Conference in Reston on April 5 by a majority of the 1,700 attending delegates. Immediately following the election, Ali appointed Fazila Tariq, a MVHS junior, as corresponding secretary for the state.
As the first state president from Mount Vernon High School, Ali stressed his commitment to the values and standards of the Future Business Leaders of America during his day-long-campaign at the conference.
"I'm really excited to have such a great opportunity and will try to make this organization the best it can be," said Ali. As president of the Virginia Chapter he will be responsible for presiding over State Chapter meetings, serving as a representative of the state at national events, and adhering to the FBLA state bylaws.
In total, five student officers from the Northern Virginia region were elected to the state board, including three from Mount Vernon High School and two from Robinson High School.
Future Business Leaders of America - Phi Beta Lambda is a nonprofit education association with a quarter million students preparing for careers in business and business-related fields.