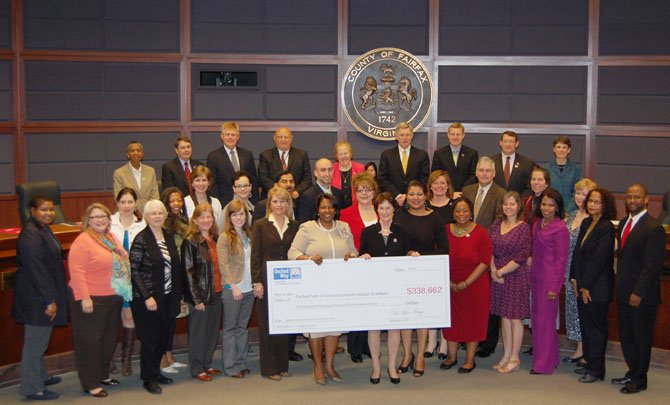 United Way of the National Capital Area (United Way NCA) announced that it is awarding 21 grants totaling $338,662 to member organizations serving the Fairfax and Falls Church areas. The funds came through designations to the Fairfax/Falls Church Community Impact Fund in United Way NCA's annual workplace giving campaign. Each of the grants directly addresses programs that fall within United Way NCA's focus areas of education, financial stability and health.
"United Way NCA is pleased to provide 21 nonprofit organizations serving the communities in Fairfax and Falls Church with funding to solve critical challenges," said Rosie Allen-Herring, President and CEO, United Way NCA. "United Way NCA's Community Impact Grants will help children have greater access to quality education programs; adults to get the job training and professional support they need to find and maintain lifelong careers; and children and adults to be healthy and active."
In total, $1.7 million was raised through Community Impact Funds in United Way NCA's eight regions thanks to the support of employees from over 800 workplaces with more than 3,000 locations throughout the Washington, D.C. region.
This year, United Way NCA increased the minimum grant award to $10,000 to make a greater impact on the organizations and their programs. The maximum award, as in past years, is $25,000. United Way NCA awarded a total of 133 grants to 104 member organizations. There were 29 programs funded in the areas of education, 38 in financial stability, and 66 in health.
Specifically, the Fairfax/Falls Church grantees are:
ACCA, Inc. (Annandale Christian Community for Action)

Alzheimer's Family Day Center

American Red Cross in the National Capital Region

Computer C.O.R.E.

FACETS Cares, Inc.

Falls Church-McLean Children's Center

Food & Friends, Inc.

Hispanics Against Child Abuse and Neglect, Inc.

Homestretch, Inc.

Jill's House, Inc.

Literacy Council of Northern Virginia, Inc.

Main Street Child Development Center, Inc.

Northern Virginia Dental Clinic, Inc.

Northern Virginia Family Service

NOVA ScriptsCentral, Inc.

Our Daily Bread, Inc.

The Reading Connection Inc.

SCAN of Northern Virginia, Inc.

Shelter House, Inc.

Wesley Housing Development Corporation of Northern Virginia

Western Fairfax Christian Ministries
Our Daily Bread's Food Program serves 60 households each month, providing two grocery deliveries per month for 4-6 months. Annually that is valued at $165,000 per year to over 300 families. "This vital funding from the United Way of the National Capital Area will be used to purchase grocery cards to distribute to families who come to us seeking emergency food assistance, and will also help us fill gaps in our food delivery calendar for those who participate in our short-term food assistance program," said Lisa Whetzel, executive director, Our Daily Bread.
For more information about United Way of the National Capital Area, visit UnitedWayNCA.org.