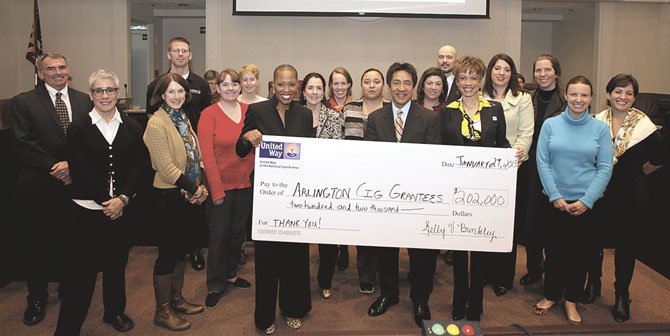 Arlington — United Way of the National Capital Area awarded 20 grants totaling $202,000 on Jan. 29 to 18 member organizations serving Arlington County. The funds came through designations to the Arlington Community Impact Fund in United Way NCA's annual workplace giving campaign. Each of the grants directly addresses United Way NCA's focus areas of education, health and financial stability.
The Arlington grantees are: Arlington Food Assistance Center, Arlington Free Clinic, Arlington Pediatric Center, Arlingtonians Meeting Emergency Needs, A-SPAN (Arlington Street People's Assistance Network, Inc.), Ayuda, Borromeo Housing, CrisisLink, Doorways for Women and Families, Friends of Guest House, Goodwill of Greater Washington, Just Neighbors, Northern Virginia AIDS Ministry (NOVAM), Northern Virginia Family Service, ReSET, SCAN of Northern Virginia, The Child and Family Network Centers, and The Reading Connection.
Each year, United Way NCA solicits funding proposals from its member nonprofit organizations for specific programs and work in these communities. This year, Arlington County member organizations submitted 51 proposals totaling $895,500. Funding decisions are made by a volunteer, citizen-led task force that works together with area nonprofits, governments, and business leaders to determine where there are gaps in services and where the funds will do the most good.
All donors to United Way of the National Capital Area have the option of directing their pledge to the Community Impact Fund in one of United Way NCA's eight regions including Alexandria, Arlington, District of Columbia, Fairfax/Falls Church, Loudoun, Montgomery, Prince George's and Prince William counties.