Del Ray Artisans and the T.C. Williams High School Art Department jointly present the 17th Annual Student Art Show at Del Ray Artisans gallery. The exhibit will feature the work of members of the National Art Honor Society.
Students are inducted into the NAHS upon recommendation by their art teachers. T.C. Williams students must have completed a minimum of two years of high school art study during which they have demonstrated exemplary achievement. Many of these students will continue to study art at the college level, and much of the work on exhibit was featured in their winning college admission portfolios.
An opening reception will be held Friday, May 2, 7-9 p.m. Light snacks and beverages will be available.
The show will run May 2-11 at the Del Ray Artisans gallery at the Nicholas A. Colasanto Center, 2704 Mount Vernon Ave. Gallery hours are: Thursdays, noon-6 p.m. (First Thursday noon-9 p.m.); Fridays, noon-9 p.m.; Saturdays, noon-9 p.m.; and Sundays, noon-6 p.m. The gallery is free, open to the public and handicap accessible.
Call 703-838-4827 or visit www.thedelrayartisans.org for more.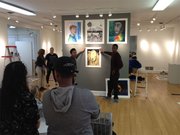 More like this story