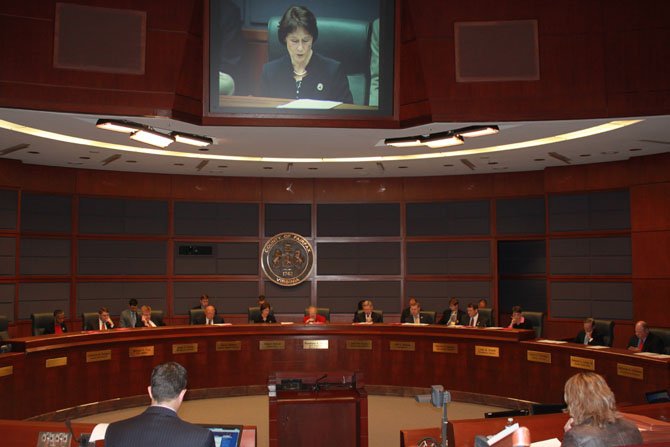 Fairfax County is another step closer to having an approved budget for the next fiscal year.
The Board of Supervisors approved the 2015 budget markup at its April 22 meeting at the county Government Center.
Supervisors Linda Smyth (D-Providence), Pat Herrity (R-Springfield) and John Cook (R-Braddock) opposed the markup.
"The good news this year is that real estate values are beginning to rebound," said Chairman Sharon Bulova. "The bad news is that only residential values are rising; business taxes are flat and commercial assessments are a 0.1 percent decrease from fiscal year 2014."
The tax rate will rise half a cent from $1.085 to $1.090. For homeowners, there will be a $25 increase in county taxes.
In addition, the School Transfer is a 3 percent, rather than the advertised 2 percent, increase — augmenting the county aid to schools by $17 million.
"With this added percentage, the total increase in the School Transfer will be $51.5 million," said Bulova. "An expected increase in state funding of approximately $30 million will help to fund additional school requirements."
Neither Smyth or Herrity supported the increase in taxes.
"I think we could have done better for our taxpayers," said Herrity. "I've supported budgets in the past, but I'm not going to support this budget."
Cook said the problem with the budget is that the county spending increases every year. He said the county would be able to give more to the schools if spending was maintained.
"I'm afraid this budget takes us off track," he said.
Supervisors Michael Frey (R- Sully District) and Catherine Hudgins (D- Hunter Mill) supported the budget but did not feel it reflected the needs of the community.

Hudgins said the residents in her area would support more taxes if it went towards services that the community needed. She also did not support the county asking parents to pay more for the School Age Child Care (SACC) Program.
"It's these kinds of things that say I don't know if we're listening to the community," she said.
However, many were happy with the compromise Bulova made with the markup.
"Given these challenges and the options available to the board, I believe the markup package is a significant improvement," said Dranesville Supervisor John Foust.
Some members of the audience did not feel the budget reflected their needs.
"Our official position is that the funds are just not adequate," said Fairfax Education Association President Kimberly Adams. "This is going to impede our abilities to compensate our employees."
In other business, the board approved the FY 2014 third quarter review, the FY 2016 budget recommendations, the FY 2015 to 2019 Capital Improvements Program and a Meals Tax Task Force.
More information about the task force will be shared at future meetings.