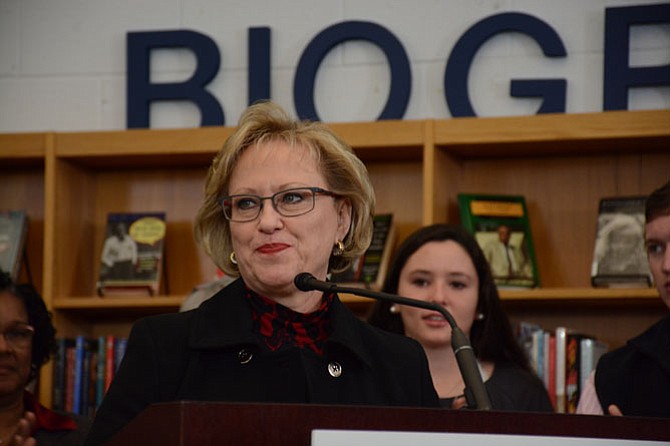 The gap between the Fairfax County School Board and total county budgets is a formality away from being the smallest since before Jan. 7 when FCPS Superintendent Dr. Karen Garza announced she wouldn't be making any additional cuts in her $2.67 billion Fiscal Year 2017 budget.
In a 7 to 3 vote at an April 19 "markup" session, the Board of Supervisors approved a $1.13 tax rate per $100 of assessed value for FY 2017. This one-cent amendment to County Executive Edward Long's Advertised Budget would generate around an additional $93 million in revenue for the Fairfax County, a release from Chairman Sharon Bulova said.
"This Budget provides a needed booster shot to support our excellent School System and to ensure the quality services our residents expect and rely upon," Bulova said in the statement. "Throughout these past months, our Board heard from thousands of residents advocating for an increase in taxes to address our community's needs."
FUNDS from the extra penny plus reallocated funds from the Third Quarter Review would send $33.6 million more to Fairfax County Public Schools than initially expected from the budget Long advertised.
"This is a clear indication that we're committed to investing in what makes our County great: its schools, its employees, and its services," Supervisor Jeffrey C. McKay (D-Lee), the Board's Budget Committee Chairman said in a statement.
"Education is absolutely a top priority -- and this budget reflects that," McKay's statement continues. "I'm also pleased to be able to make crucial steps forward in the areas of public safety, human services, parks, libraries and many of our other vital County services."
Supervisor Pat Herrity (R-Springfield) was among the dissenting votes.
"This Board continues to run the County on the backs of its citizens during the same year it voted to give itself a raise and ignored my pleas to address the looming budget shortfall earlier in the year," Herrity said in a statement. "If the Board does not set priorities and address its fiscal issues -- including pension costs and growing the commercial tax base -- we will be having this same conversation all over again next year, except this tax increase does not go away."
Fairfax County Public School Board Chairman Pat Hynes responded to the new markup action with the following statement: "The increase in funding provides our schools the opportunity to make significant and critical investments in teacher compensation, reduce class sizes and retain vital student programming. I look forward to continuing to work with our community, and with the Board of Supervisors, to solve future budget challenges in the best interest of all residents of Fairfax County."
Superintendent Garza released a statement in which she thanked Bulova and McKay for their leadership, and the supervisors who voted for the markup amendment.
"I am grateful for the widespread community support we have received and thank all parents, friends and families of FCPS who raised their voices in support of full funding for FCPS," Garza said in the statement. "The tireless commitment of these supporters was critical to #savefcps and secure the future excellence of FCPS. I am hopeful that this is reflective of a turning point in our community. This reinvestment in our community's most important asset, our schools, will provide great dividends for all the citizens of Fairfax."
Garza and Bulova both thanked the Virginia General Assembly, which was able to raise funding to FCPS by more than $16 million.
Mount Vernon District School Board representative Karen Corbett Sanders also praised the "yeoman's work," in a phone interview, "that both our state delegation and county board worked together as a team.
"It's still within the realm where we can get there without significantly impacting our kids," she continued, "and that's what we wanted. This is a values budget that reflects the values of our community, what Fairfax County has been known for."
LESS ADVERSARIAL communication and more collaboration between the two boards, and more clarity from the School Board about how the money was being spent were key drivers in achieving the amendment, Springfield District School Board member Elizabeth Schultz said in a phone interview.
"It can't be high noon on Main Street," Schultz said. "We've tried that. All that does is cause a shootout. If we start talking about our common goals, our common mission to serve Fairfax County, ultimately the Commonwealth, now you are headed in a different direction.
"I'm happy we're finally here," Schultz continued. "I wish we'd gotten here earlier.
Schultz said she is "cautiously optimistic this is the beginning of a new way of doing things between our boards."
The Board of Supervisors will formally adopt the marked up budget on April 26. For more information, visit www.fairfaxcounty.gov/dmb/fy2017/fy2017-budget-mark-up-package.pdf.