For a group of adults in their late thirties, coming together for their fifth grade class reunion is somewhat uncommon. But students of George Weiner, a teacher at White Oaks Elementary School in Burke, say he was such a special and amazing teacher that there was no way they could forget fifth grade.
"Folks said, fifth grade reunion? Who goes to a fifth grade reunion? I can't explain it to you unless you know Mr. Weiner, if you knew our teacher and what our class was like and what magic was created that year, then you understand why we are getting together," said Kathryn Getek Soltis, a student in Weiner's 1987-1988 fifth grade class who along with Sara Dinwoodie and Brienne Yeager McDonald helped to plan the group's 26th reunion.
NEARLY A DOZEN of Weiner's fifth grade class gathered at their old elementary school in Burke on April 26, not only for the reunion but to celebrate Weiner's upcoming retirement.
"It makes me very sad to know that no one is going to have him next year, but to think that for the last 25 plus one years there have been classes just like us who have gotten to experience Mr. Weiner is a real gift, and so we know that there are many more people than are sitting here in this room who realize why someone would have a fifth grade reunion," Soltis said.
Soltis has been sending out "keep in touch" reminder postcards since the students graduated Mr. Weiner's class in 1988. The original goal was to remind them of a time capsule they buried, to be opened in 2000. But even after the time capsule was unearthed, they wanted to continue the tradition.
Soltis said her father encouraged her to start sending out postcards, and he was the one who came up with the keep in touch slogan. She originally thought it was cheesy. She also complained the cost of postage would be too much. But luckily, she persisted, and 26 years later, the group gathered to celebrate Mr. Weiner at the place where the learning began.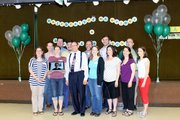 In the 1980s and early 90s, the only thing that kept the class together was those annual postcards that Soltis sent. Although she still sends the postcards, keeping in touch is easier with email, which came on the scene when the group was in college.
"Then Facebook and LinkedIn came on, and that was used to stalk you," Soltis joked at the reunion.
Soltis' class was Weiner's first after returning to education following 11 years in law. He said they were the perfect class to have the first year back.
"We had academic freedom, time for creativity. Creativity was always encouraged and recognized," Weiner said.
Weiner's students say they remember a great deal of what they learned in his class, from his Latin vocabulary words to the hands-on science experiments. His teaching has inspired them, Soltis said.
"I remember so much of what I learned in fifth grade because it was just such an amazing time to be able to explore and question, and we were all in this journey together," Soltis said. "I really feel like my love of learning and my love frankly of teaching started in a very special way when we were in fifth grade."
WEINER'S FORMER STUDENTS were also joined by their family members and children. The principal of White Oaks Elementary, Ryan Richardson, and Weiner's co-worker Gail Kahn and self-described "president of the George Weiner Fan Club," who was also teaching in 1987 when Weiner began his career at White Oaks, joined Weiner at the reunion.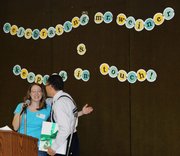 "He's like a rock star," Kahn said.
Tony Barrile, a member of the fifth grade class, said receiving the postcards each year is exciting.
"It's really amazing that we have kept in touch all this time," Barrile said.
Of the 27 members of the class, 25 participated in preparing for the reunion.
"It's so cool seeing how everyone hasn't changed, and remembering how Mr. Weiner is the best teacher," Dinwoodie said.
Some students still live in the area, but many have moved across the country. McDonald traveled all the way from Phoenix to attend the April 26 reunion.
"Mr. Weiner's love of learning was just so contagious," McDonald said.
At this point, a 50th anniversary party is possible, Soltis said. For now, the annual keep in touch postcards will continue.
"I'm extremely honored," Weiner said. "They are such a creative, smart group."