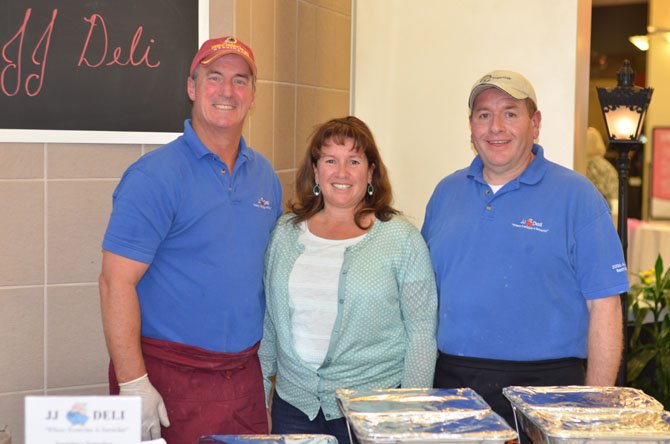 Taste of Town Returns
Herndon's annual Taste of the Town event was celebrated April 24 at the Herndon Worldgate Center. The annual event has been known as a showcase for destination dining, but was not held in 2013. "I am thrilled that this event is back, it is a great opportunity to try food from around the town," said Herndon Mayor Lisa Merkel. "I am extremely happy with the turnout, it was missed when it was not held last year," said Herndon resident Linda Downer.
"It is good to have Taste of the Town back again," said Jimmy Cirrito, owner of Jimmy's Old Town Tavern. Cirrito along with other local restaurant owners had food samples ready for guests attending the ticketed event. There were 19 food vendors participating in the event including JJ Deli, Matsutake Japanese Restaurant, Vocelli's Pizza, The Chocolate Chick, Pizzanese, Chantel's Cakes and Pastries, and others. Several sponsors helped with the event including MEDA, Herndon Florist, Rappaport Companies, XOXO Photos, and Meadows Farms Nurseries.
Helping orchestrate the event and coordinate volunteers were Herndon residents Sharon Nachman and Mercia Hobson, Vice President of the Herndon Foundation for the Cultural Arts. "The Council For the Arts of Herndon has done this event for over 20 years, and the Herndon Foundation for Cultural Arts hosted the event this year because we think it is important for the community," said Sharon Nachman, a member of the Board of Directors for ArtSpace Herndon. The objective for the Herndon Foundation for the Cultural Arts is to make a permanent arts center in Herndon, one that will accommodate a theater for performances, gallery for exhibits, and classes for teaching.
Local celebrity bartenders such as state delegates and Town of Herndon council members served drinks and beverages. Some of the bartenders included Fairfax County Board of Supervisors Chairman Sharon Bulova, Del. Tom Rust (R-86), and CEO of the Dulles Chamber of Commerce Eileen Curtis. Herndon's local non-profit, cable access PEG station Herndon Community Television (HCTV) was also there to cover the event. "Everybody had a good time, the auction bidding was new but people seemed to enjoy it," said Nachman. "We had wonderful sponsors for the event, and we are looking forward to doing it next year."
"By all indications the event was a success. Everybody who attended had a great time, there was a lot of positive feedback," said Lawrence "Larry" Verbiest. "This is a great event," said Herndon resident and volunteer Jennifer Baker. For more information on local restaurants in the Herndon area, visit www.dineonherndon.com.
More like this story