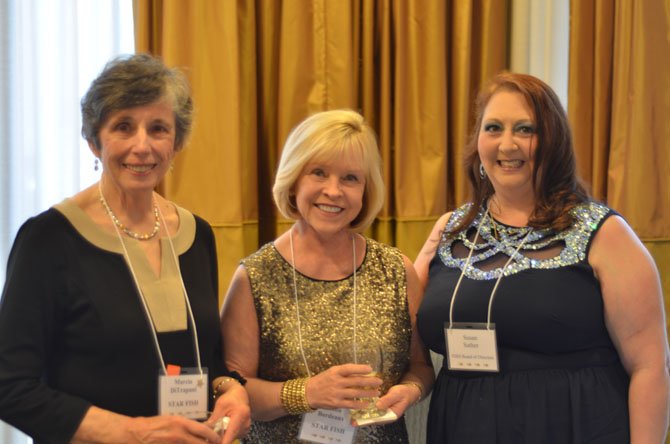 Herndon-Reston FISH, Inc., a nonprofit organization dedicated to helping families meet emergencies and short-term needs, held its 9th Annual Fish Fling Gala at the Crowne Plaza Dulles Airport Hotel on Saturday, April 26, from 6 to 11 p.m. The gala was FISH's largest fundraising event to acquire the financial support for its Family Assistance Program. In 2013 FISH worked with over 1,300 area families.
Since 1969 Herndon-Reston FISH has offered immediate assistance to local residents in short-term crises. FISH's mission is to provide friendly, instant, sympathetic help or emergency support within the community. The 2014 FISH Fling Gala included a sit-down dinner, auction with dozens of great items, and live music by The Franklin Project band. The annual fling honors volunteers and partners who contribute to FISH's effort. Fling chair Susan Sather said, "This annual FISH Fling Gala is an important event for us to recognize our supporters, as well as to obtain funds for our program."
Attending the event were U.S. Rep. Gerry Connolly (D-11) and state delegates Ken Plum (D-36) and Tom Rust (R-86). Individuals honored at the FISH Fling for their extra volunteer service included Marcia Di Trapani, JoAnn Bordeaux, Suzanne Rudiselle, and Myra Santoro. "We have some wonderful community support," said Bordeaux.
The goal of FISH is to prevent evictions, keep utilities from being turned off and help people pay for their prescriptions. They work closely with social workers from Fairfax County, local hospitals and other nonprofit organizations. Additionally, Herndon-Reston FISH, Inc. operates an Information and Referral Service, funded by a grant from Fairfax County, which provides all callers with information about sources of long and short-term assistance available in Fairfax County through public and private agencies. This service also arranges rides for Herndon and Reston residents to get to medical appointments. FISH runs a monthly Financial Workshop to teach individuals and families financial literacy.
FISH also operates The Bargain Loft, located at 336 Victory Drive in Herndon. The Bargain Loft was started in 1981 as a volunteer-run thrift store selling household items, furniture, toys and more. Profits generated by The Bargain Loft support the FISH assistance program, providing residents with emergency needs. Barbara Williams and April Elliott oversee the operations of The Bargain Loft. "It is a multifaceted part of community outreach and fundraising," said co-manager April Elliott.
Lisa Groves, a resident of Reston and graduate of South Lakes High School, class of 1978, helped with the raffle of televisions donated by CDW Corporation. "This event is held so business and individuals can come learn about us, it is meant to be a community building event," said Groves. Before the meal, U.S. Rep. Connolly was invited to say a few words. "Let us redirect ourselves to our neighbors and our community… God bless the work of FISH and all the volunteers," said Connolly.
For more information on Herndon-Reston FISH, visit herndonrestonfish.org.