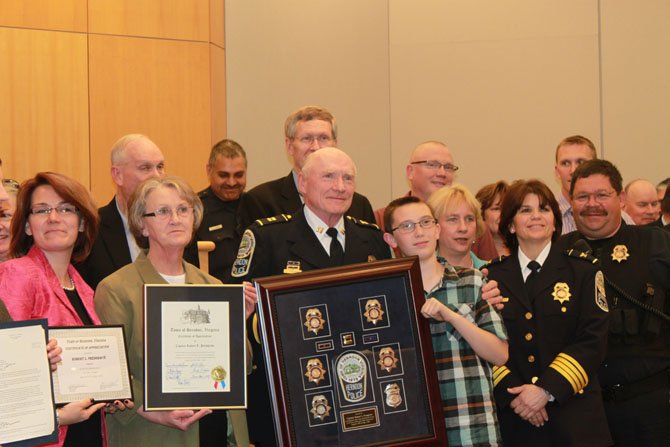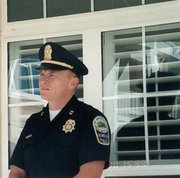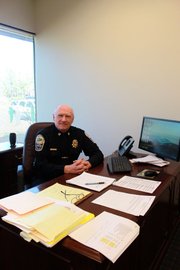 "This is a people business. … It's not guns, handcuffs and high-speed chases."
— Captain Robert Presgrave
In 1972, American soldiers were fighting in the Vietnam War, the Watergate scandal broke and NASA received their first pictures from Mars from an orbiting probe.
That August was also Police Captain Robert Presgrave's first month as an officer for the Herndon Police Department. More than 41 years later, he is retiring from the everyday business of keeping the town a safer place.
"There are a thousand stories I can write," he said. "If I could write like an author, I'd write a book."
Officially, his last day was today, April 30.
His plans are to continue fixing his neighbors' lawn mowers and chainsaws as well as cruise around town in his remodeled 1964 Corvette. At the April 22 Herndon Town Council meeting, the board members and many of the town's residents honored him with kind words and a shadow box filled with badges as he rose the ranks from officer to lieutenant to captain.
"You have served with distinction, honor and we will miss you greatly," said Chief of Police Maggie DeBoard.
Every one of the board members had a memory of Presgrave - and many had inside jokes about chainsaws and cars.
"I don't think you've got anybody who doesn't like you," said board member Charlie Waddell. "You made so much more than a difference. You created a legacy."
He started out as an officer at the Fairfax County Police Department. However, it was a big step for him as a first job. He remembered his days visiting Herndon with his father as a boy. When he saw Herndon Police Department had an open position after just a couple years on the job, he applied.
"I vividly remember my first day here," he said. "I was very excited and happy to be here, and I still feel the same way today."
Now, years later, he has memories of chasing a goose through a grocery store, seeing a man panic behind his steering wheel after being shaken awake in his car, and seeing how the town changes after midnight.
He said some of the back-to-back shifts have been hard on his body. He has missed birthdays, holidays, dinners, weekend trips and many other family and friend functions - like many officers do - because of his hectic work schedule. During his retirement ceremony, he told his colleagues that they have chosen one of the most challenging jobs they can have.
"I've missed so much, but that's just what this job requires," he said. "You're not obsessed with the job, but you love it. Policemen love midnights, but it's hard on the body."
Even so, he loved every year he served for Herndon Police Department. He said he will miss the daily interactions he has with the town's residents.
"This is a people business," he said. "It's not guns, handcuffs and high-speed chases."