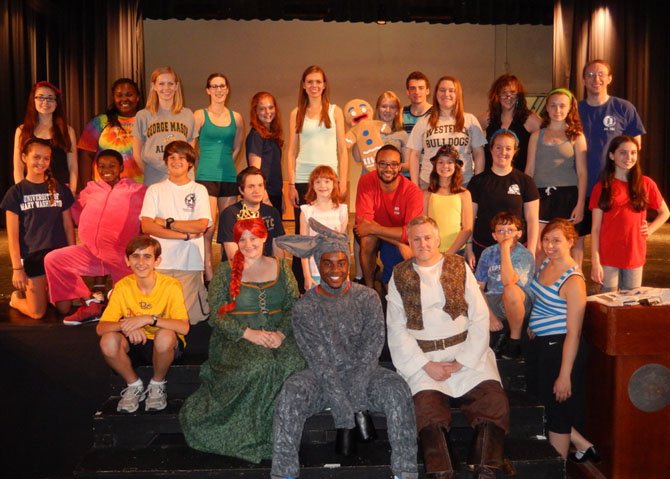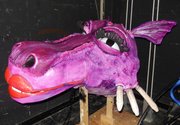 A big green ogre, a princess, a wisecracking donkey and a love-struck dragon – they'll all be onstage when The Alliance Theatre's Summer Stars program presents "Shrek the Musical." And right there with them will be Robinson Secondary graduate Spencer Boyd.
The cast and crew of nearly 100 have been working on the show since May and, when the curtain rises, they'll be joined by a 13-piece pit orchestra. Helming his fourth Alliance show, Director Scott Olson says things are going really well.
"I've got an insanely talented cast," he said. "My leads are spot-on for their characters, and 30 members of our Summer Stars theater camp – from third through eighth grade – are in the show, too. They're doing really high-level dances, tight choreography and even marching."
Olson said special prosthetics were created to transform actors into ogres and fairytale characters, and the costumes and make up will be "amazing," as will the 26-foot-long, light-up, dragon puppet that exhales smoke. The scenes take place in a swampy forest, a castle, a dragon's lair, a church and at Shrek's house – an oversized tree stump.
THERE'S ALSO A MORAL to the story. "This show's about understanding and appreciating others' differences and accepting and appreciating yourself for who you are," Olson said.
Playing Shrek is Oak Hill's Glynn Cosker. "He's an ogre who likes living by himself in a swamp," said Cosker. "So he's surprised to one day find dozens of fairytale creatures there. But he's not immune to adventure. Yet when he falls in love with Fiona and forms a friendship with Donkey, you see a different side of him and learn that he actually has a big heart."
Cosker's been in 30 shows, but calls Shrek one of the most fun roles he's ever played. "He's such a big, full-of-life character," said Cosker. "And the whole experience – working with the kids and seeing their reactions to Shrek – has been wonderful. It's about 180 degrees from my own, nice and introverted personality. As Shrek, I do lots of yelling and screaming, so it's quite therapeutic."
His favorite song, which he sings, is "When Words Fail." In it, said Cosker, "Shrek's trying to get the courage to ask Fiona to spend time with him – and worrying what he'll do if his words fail him. The song speaks to his humility as you see him shedding the ogre shell and becoming more human."
Cosker said the audience will also enjoy the show's energy and focus, plus the singers and dancers in the ensemble. "The choreography and costumes are awesome," he said. "People will step into a different world for two hours and have a good time."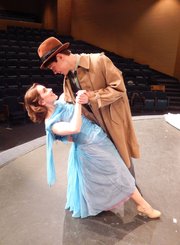 NEW ROBINSON GRAD Spencer Boyd, who'll major in musical theater at JMU in the fall, portrays Lord Farquaad. "He's the Lord of Duloc, but is constantly searching for power," said Boyd. "He's over-compensating for his short height, so he wants perfection. He's banished all the fairytale creatures from his land because he only wants to rule over perfect people."
However, the only way he can become king is by marrying a princess like Fiona. "He's very proud and can be charming and charismatic," said Boyd. "But he's also mean, strict and ill-tempered – and the subject of his height is off limits."
"It's great playing him because he's just over-the-top with everything," continued Boyd. "He has a regal air of royalty, but is touchy about his height, so he's a very funny character to play." But Since Boyd is actually tall in real life, he'll be walking on his knees during the show to be short.
He especially likes the number, "What's Up, Duloc?" which he sings. "It's Farquaad's entrance song, makes fun of other Broadway numbers and is very humorous," said Boyd. Overall, he said, "This is a really funny, family-friendly show with a great message – let your freak flag fly and don't be afraid to be different. And it'll be really enjoyable to watch."
"Shrek the Musical" will be performed by The Alliance Theatre at Chantilly High, 4201 Stringfellow Road in Chantilly. Show times are: Friday, Aug. 1 and 8, at 7:30 p.m.; Saturday, Aug. 2 and 9, at 2 p.m. and 7:30 p.m.; and Sunday, Aug. 3 and 10, at 2 p.m. Tickets are $16 at www.TheAllianceTheatre.org or 703-220-8101.